Gorniak, Mariusz and Lawrence, Steve Swinford Road, Lutterworth, Leicestershire. [Client Report] (Unpublished)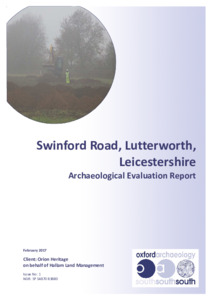 Preview
PDF




X_A134_2016.pdf


Download (14MB) | Preview
Abstract
Oxford Archaeology undertook an archaeological trial trench evaluation on land
to the east of Swinford Road, south of Lutterworth, Leicestershire between 5th-
16th December 2016. The evaluation was preceded by a magnetometer
geophysical survey that provided clear evidence for archaeological activity
across the southern and western part of the site. The trial trench evaluation was
targeted to specifically investigate the geophysical survey results and to
establish the presence/absence of remains across the northern part of the site.
A total of 19 trenches were excavated, confirming the presence of a large,
single-phase, rectangular enclosure measuring approximately 112m by 70m
occupying the former high ground across the southern part of the site. Pottery
assemblages recovered from the ditch securely date this to the late 2nd century
AD.
A series of ditches, gullies and pits were investigated within the enclosure area,
although these lacked artefact assemblages. A clear association between the
enclosure and other features was not established, although the propensity of
these to be within the enclosure and the absence of similar features beyond
suggests a link.
Some ferrous metalworking activity (smithing) was undertaken at the site as
evidenced by hammerscale and burnt clay fragments recorded in Trench 3.
The topographical levels across the northern part of the site bordered by the
M1 Junction 20 slip road and the A4303 had been substantially raised during
the 20th century. Here made ground soil depths of up to 2m were recorded,
probably related to the M1 construction, although the deposition of these had
not been preceded by truncation.
Archaeological features across the northern part of the site were limited to
more sparsely arranged linear features that are likely to represent field
boundaries peripheral to settlement activities.
Actions (login required)