Quartermaine, Jamie (2013) Kelber, Conistone with Kilnsey, North Yorkshire Archaeological Survey Report. [Client Report] (Unpublished)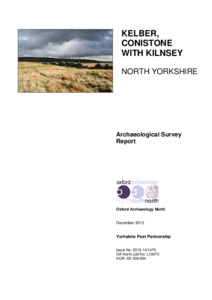 Preview
PDF




L10673_Kelber_FullRep.pdf


Download (4MB) | Preview
Abstract
Oxford Archaeology North (OA North) were invited by Yorkshire Peat Partnership to undertake an archaeological landscape survey and an assessment of re-wetting on an area of moorland at Kelber, on Conistone Moor in Wharfedale, North Yorkshire (SE 0006 684).
The work was undertaken to provide an assessment of the archaeological impact of this restoration programme. The survey was undertaken as an enhanced Level 1-type survey
(English Heritage 2007) over an area of 0.73 km2.
In total, 19 features of archaeological interest were identified across the survey area, although these were mainly confined to the areas of mining near Seeds Hill in the southern part of the survey area.
The sites identified within the survey area during the survey can be divided into three broad categories: lead mining; other extractive industries and miscellaneous land use. Most of the sites are difficult to date closely in the absence of additional data from documentary sources or archaeological excavation; however, most are likely to date to the post-medieval (1540- 1750), industrial (1750-1914) or modern periods. Some might date to earlier periods, in
particular a putative Bronze Age funerary cairn and a series of prehistoric/medieval stock enclosures. Despite extensive investigation of 20% of the grips and the exposed peat hag
sections, no prehistoric dated flints were retrieved during the present survey.
Few of the identified sites are likely to be susceptible to damage as a result of work to block the drainage grips as they are relatively robust earthwork features. Most of the identified sites were remote from the areas of grips and would therefore be unaffected by gripping
operations. However, this is dependant upon earthworks being avoided by vehicles and machines, and these areas not being used to generate material for the infilling of grips. Sites
that are under direct threat from the proposed works are the three isolated trial shaft mounds (Sites 3, 5 and 7) and a limestone quarry on the edge of the moorland track (Site 2).
Particular care should also be given to avoiding the putative funerary cairn (Site 18) when tracked vehicles are crossing up onto the moor.
Actions (login required)