Collie, Tom (2020) Land at Place Farm, Ingham, Suffolk. [Client Report] (Unpublished)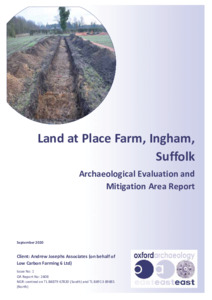 Preview
PDF




OAE_Report2484_XSFING20A_LR.pdf


Available under License Creative Commons Attribution Share Alike.
Download (5MB) | Preview
Abstract
Between the 15th January and the 27th February 2020, Oxford Archaeology East conducted an archaeological evaluation and excavation work on land at Place Farm, Ingham, Suffolk. The work was undertaken in advance of the proposed installation of water and gas pipelines and electricity cables in a single service trench scheme. A total of 34 evaluation trenches were excavated across arable farmland recreational areas surrounding St Genevieve Lakes (formerly Ingham Quarry). These trenches revealed five of areas of later prehistoric and Romano-British archaeological features.
As a result of the trenching work, excavation Areas A-E were opened to mitigate the impact of the service trench scheme on the archaeological remains. Within the small tributary valley at the northern end of the scheme, a large number of pits were uncovered in Areas A and B which probably represent an eastward extension of the more extensive area of Neolithic to Iron Age settlement activity previously excavated at Ingham Quarry. To the south, Area C investigated a group of Romano-British settlement remains which probably represent a peripheral part of an Early to Middle Roman farmstead. Overlooking the River Lark valley in the southern part of the scheme, Areas D and E encountered further settlement remains to add to the previously known areas of later prehistoric occupation of this higher ground excavated at Fornham Park and Ingham Quarry.
When taken together, the areas of occupation identified by these excavations provide a useful contribution to understanding the evolving pattern of later prehistoric and Romano-British settlement in the locality.
Item Type:
Client Report
Uncontrolled Keywords:
Suffolk, suffolk, Ingham, ingham, Fornham St Genevieve, fornham st genevieve, Timworth, timworth, Evaluation, evaluation, archaeological evaluation, Roman, roman, Iron Age, iron age, Pottery, pottery, pot, ceramic, sherd, vessel, Roman pottery, roman pottery, Flint, flints, flint, worked flint, worked flints, lithic, lithics, lithic implement, Neolithic, Late Neolithic, neolithic, late neolithic, Bronze Age, bronze age, Early Bronze Age, early bronze age, Neolithic lithic implement, Late Neolithic lithic implement, neolithic lithic implement, late neolithic lithic implement, Bronze Age lithic implement, bronze age lithic implement, Early Bronze Age lithic implement, early bronze age lithic implement, Iron Age lithic implement, iron age lithic implement, animal remains, bone, bones, animal bone, animal bone, Settlement, settlement, pit, pits, pitting, ditch, ditches, farming, farm, farmstead, Roman farmstead, roman farmstead, periphery, agriculture, land use, pipeline, Ingham Quarry, ingham quarry, Fornham Park, fornham park, 4208, report 4208, Report 4208, OAE report 4208
Subjects:
Geographical Areas > English Counties > Suffolk
Period > UK Periods > Bronze Age 2500 - 700 BC
Period > UK Periods > Bronze Age 2500 - 700 BC > Early Bronze Age 2500 - 1500 BC
Period > UK Periods > Iron Age 800 BC - 43 AD
Period > UK Periods > Iron Age 800 BC - 43 AD > Late Iron Age 100 BC - 43 AD
Period > UK Periods > Neolithic 4000 - 2200 BC > Late Neolithic 2700 - 2200 BC
Period > UK Periods > Neolithic 4000 - 2200 BC
Period > UK Periods > Post Medieval 1540 - 1901 AD
Period > UK Periods > Roman 43 - 410 AD
Divisions:
Oxford Archaeology East
Depositing User:

Hamilton

Date Deposited:
09 Nov 2020 11:56
Last Modified:
09 Nov 2020 11:56
URI:
http://eprints.oxfordarchaeology.com/id/eprint/5862
Actions (login required)