Graham, Steven (2019) Land North-West of Haverhill, Suffolk: PXA and UPD. [Client Report] (Unpublished)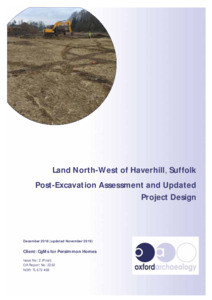 Preview
PDF




Haverhill Report 2232 PXA_final_LR.pdf


Available under License Creative Commons Attribution Share Alike.
Download (5MB) | Preview
Abstract
Summary
Between February and April 2018 Oxford Archaeology East (OA East) carried out archaeological excavations at land north-west of Haverhill (within the parish of Little Wratting), Suffolk. Six areas (Areas A-F) were excavated within the proposed 8.8ha residential development, targeting predominantly medieval remains revealed by a previous evaluation undertaken in 2007.
Part of an extensive but undated field system was revealed that represents the earliest activity on the site. This was on a different alignment to the later boundaries and is likely to be later prehistoric in origin.
The most significant discoveries relate to a sequence of boundaries delineating a series of fields and enclosures laid out on either side of a trackway, but predominantly on its northern side. The (extant) track led westwards from the Haverhill road towards the site of a medieval property known as Alderton Chapel, later occupied by Chapel Farm. The earliest boundaries and a smaller track appear to have been established in the early medieval period (late 11th-12th/13th century) but were subsequently reworked on a number of occasions during later phases, with notable activity during the high medieval period. Although predominantly agricultural in character, there was clear evidence of domestic activity within some of the enclosures, including structural remains and (rubbish) pits along with more 'industrial' pits/tanks, quarries and possible work surfaces. The densest activity appears to have been concentrated in the western extents of the excavated areas, closer to the track and the presumed site of the chapel. Activity seems to have begun to decline by the 14th century and the land was no longer inhabited by the late medieval to early post-medieval period; a fate presumably linked to that of the adjacent chapel.
Associated finds include a moderately large pottery assemblage and smaller groups of early medieval lava quern, fired clay (possibly from ovens or hearths) and a few metal objects. The small faunal assemblage hints at sheep rearing on or near the site, while plant remains were not well preserved and represent a low-level background scatter of charred cereal grains and occasional deliberate deposits of burnt food waste.
Item Type:
Client Report
Uncontrolled Keywords:
Suffolk, suffolk, Haverhill, haverhill, Little Wratting, little wratting, Excavation, excavation, archaeological excavation, Medieval, medieval, Pottery, pottery, pot, ceramic, sherd vessel, Medieval pottery, medieval pottery, Buckle, buckle, animal remains, animal bone, animal bones, bone, bones, CBM, cbm, Ceramic Building Material, ceramic building material, Brick, brick, tile, Tile, roof tile, floor tile, PXA, pxa, UPD, upd, PXA and UPD, pxa and upd, Post-Excavation Assessment, Post-excavation Assessment, post-excavation assessment, Updated Project Design, updated project design, ditch, ditches, field system, field ditch, field ditches, agriculture, farming, prehistoric field system, Prehistoric field system, Later Prehistoric Field System, later prehistoric field system, enclosures, enclosure, field, fields, trackway, Alderton Chapel, alderton chapel, domestic, domestic activity, surfaces, surface, quarry, quarry pit, extractive pit, rubbish pit, refuse pit, structure, sheep rearing, sheep, 2232, report 2232, Report 2232, OAE report 2232
Subjects:
Geographical Areas > English Counties > Suffolk
Period > UK Periods > Bronze Age 2500 - 700 BC
Period > UK Periods > Medieval 1066 - 1540 AD
Period > UK Periods > Post Medieval 1540 - 1901 AD
Divisions:
Oxford Archaeology East
Depositing User:

Hamilton

Date Deposited:
09 Nov 2020 14:43
Last Modified:
09 Nov 2020 14:43
URI:
http://eprints.oxfordarchaeology.com/id/eprint/5864
Actions (login required)