Mason, Neal (2019) Former Perkins Engines Site, Newark Road, Fengate, Peterborough: Full Report. [Client Report] (Unpublished)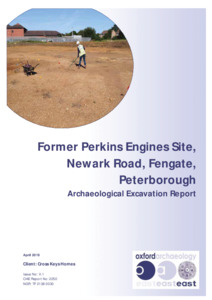 Preview
PDF




OAE_ Report2250_PETPES18_LR.pdf


Available under License Creative Commons Attribution Share Alike.
Download (5MB) | Preview
Abstract
Between the 25th of June and the 9th of August 2018 Oxford Archaeology East (OA East) carried out a series of open-area excavations at the former Perkins Engines site, Newark Road, Peterborough (TF 2138 0030; Fig. 1). Three areas of excavation were exposed (Areas A-C, Fig. 3) totalling just over 0.8ha.
A series of largely undated pit and post hole groups were revealed across the areas. Four exceptions, dating from the Late Neolithic to Early Bronze Age, were similar to features found in several nearby sites.
The excavation also revealed a series of ditches broadly aligned north-east to south-west and north-west to south-east. These form components of a rectilinear Middle Bronze Age field system incorporating a sub-square enclosure in Area C measuring c.40m by 40m and a similar, partially revealed, sub-square enclosure in Area A. These ditches and boundaries belong to a wider field system that extends across the Fengate area. Analysis of these features revealed the alignments coincided with the contemporary fen edge.
Evidence was also found for later prehistoric activity in the form of several pits containing pottery and/or charcoal rich deposits, one of which returned a Late Bronze Age to Early Iron Age radiocarbon date. These were complimented by the presence of the cremation uncovered in the earlier evaluation, which returned a similar date.
A second alignment of ditches running north-north-east to south-south-west and north-north-west to south-south-east were also revealed, composing a Romano-British field system in Area C and incorporating a trackway running across the three areas.
A small assemblage of prehistoric finds was recovered from the excavations, dating from the Mesolithic/Early Neolithic to Early Iron Age periods. These include worked flint, pottery and animal bone, mostly deriving from ditches associated with the Middle Bronze Age field system and later prehistoric pits. The pottery and animal bone were highly fragmented, and environmental remains were poorly preserved. Later finds were restricted to two sherds of Roman pottery and an 18th century military button.
Item Type:
Client Report
Uncontrolled Keywords:
Peterborough, peterborough, Cambridgeshire, cambridgeshire, Perkins Engine, perkins engine, Bronze Age, bronze age, Middle Bronze Age, middle bronze age, Late Bronze Age, late bronze age, Early Iron Age, early iron age, Late Neolithic, late neolithic, Early Bronze Age, early bronze age, Pottery, pottery, pot, ceramic, sherd, vessel, Bronze Age pottery, bronze age pottery, Middle Bronze Age pottery, middle bronze age pottery, Late Bronze Age pottery, late bronze age pottery, Early Iron Age pottery, early iron age pottery, Roman pottery, roman pottery, Lithic, lithic, lithics, lithic implement, flint, flints, worked flint, button, pit, pits, pitting, pit group, post hole, ditch ditches, enclosure ditch, field ditch, boundary ditch, boundary ditches, boundary, boundaries, trackway, Roman trackway, roman trackway, field system, field systems, Roman field system, roman field system, Middle Bronze Age field system, middle bronze age field system, farming, agriculture, animal remains, animal bone, animal bones, bone, bones, Fengate, fengate, Fengate area, excavation, Excavation, archaeological excavation, 2250, report 2250, Report 2250, OAE report 2250
Subjects:
Geographical Areas > English Counties > Cambridgeshire
Period > UK Periods > Bronze Age 2500 - 700 BC
Period > UK Periods > Bronze Age 2500 - 700 BC > Early Bronze Age 2500 - 1500 BC
Period > UK Periods > Iron Age 800 BC - 43 AD > Early Iron Age 800 - 400 BC
Period > UK Periods > Bronze Age 2500 - 700 BC > Late Bronze Age 1000 - 700 BC
Period > UK Periods > Neolithic 4000 - 2200 BC > Late Neolithic 2700 - 2200 BC
Period > UK Periods > Bronze Age 2500 - 700 BC > Middle Bronze Age 1600 - 1,000 BC
Period > UK Periods > Roman 43 - 410 AD
Divisions:
Oxford Archaeology East
Depositing User:

Hamilton

Date Deposited:
11 Nov 2020 10:16
Last Modified:
11 Nov 2020 10:16
URI:
http://eprints.oxfordarchaeology.com/id/eprint/5866
Actions (login required)