Ladd, Stuart (2019) Land East of New Road, Melbourn, Cambridgeshire. [Client Report] (Unpublished)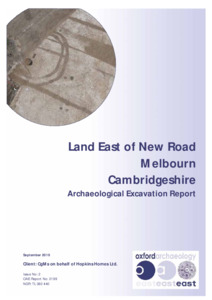 Preview
PDF




OAE_Report 2199_MELNER17_LR.pdf


Available under License Creative Commons Attribution Share Alike.
Download (15MB) | Preview
Abstract
Between July and December 2017, a team from Oxford Archaeology East undertook excavation of an area of c.5ha east of New Road, Melbourn, Cambridgeshire (TL 390 440).
A series of natural, periglacial hollows were found across the site; these features appear to have infilled over the course of the earlier Holocene and produced Mesolithic and Neolithic flintwork and Neolithic pottery as well as small quantities of faunal and human skeletal remains.
Middle Neolithic activity was suggested by the presence of Peterborough Ware pottery from several features. Increased human activity was evidenced in the Late Neolithic by fourteen pits containing finds-rich fills which produced significant assemblages of faunal remains (including both domesticated and wild species), Grooved Ware pottery and struck flints, alongside charred hazelnut shells, occasional charred cereal grains and a few fragments of shell. Many of these pits were concentrated in a single area, with environmental evidence suggesting an open landscape with some stands of woodland.
Early Bronze Age ritual/funerary features were also uncovered. A cremation burial deposited in a pit, dated to c.2140-1950 cal BC, was located close to the main area of Late Neolithic activity. The ring ditches of two round barrows were also excavated. One, single ditched, was poor in finds and produced no burials or other evidence for funerary activity. The second was double ditched and surrounded the grave of a Beaker-type inhumation burial of a single juvenile, dated to c.1920-1740 cal BC and buried with a plano-convex flint knife.
Settlement activity was evidenced throughout the Middle Bronze Age, associated with a series of radiocarbon dates suggesting activity dated to between c. 1690 cal BC to c.1200 cal BC and with most of the finds recovered dating to the period before c.1500 cal BC. The settlement comprised up to 15 post-built structures, the majority of roundhouse form. These were associated with two distinct forms of enclosure, fenced and ditched, although the chronological relationship between these two sets of boundaries is not clear. There were also three wells belonging to this period, one of which was re-cut.
A Middle Saxon enclosure ditch, partially re-worked and cut through by a well, lay in the north of the site.
Several possible structural beam slot features, possibly of medieval date but potentially earlier, were also revealed. Some of these features appeared to be associated with the post-medieval line of Ashwell Street.
Ashwell Street, in its post-medieval form, crossed the site and also intersected with 18th century tracks. All of these route ways were represented by road-side ditches associated with extensive wheel ruts.
Item Type:
Client Report
Uncontrolled Keywords:
Cambridgeshire, cambridgeshire, Melbourn, melbourn, Excavation, excavation, archaeological excavation, Neolithic, neolithic, Bronze Age, bronze age, Middle Bronze Age, Medieval, medieval, Post-Medieval, post-medieval, Post Medieval, post medieval, Pottery, pottery, pot, ceramic, sherd, vessel, Neolithic pottery, neolithic pottery, Bronze Age pottery, bronze age pottery, Middle Bronze Age pottery, Medieval pottery, medieval pottery, Post-Medieval pottery, post-medieval pottery, Post Medieval pottery, post medieval pottery, lithic, lithics, lithic implement, flint, flints, worked flint, Mesolithic flint, mesolithic flint, Neolithic flint, neolithic flint, Grooved Ware, grooved ware, Peterborough Ware, peterborough ware, animal bone, animal bones, faunal remains, animal remains, bone, bones, HSR, hsr, human remains, cremation, cremated remains, cremation burial, barrow, ditched barrow, ditched barrow enclosure, double ditch, single ditch, Beaker, Beaker ware, Beaker pottery, beaker, Beaker-type, inhumation, burial, plano-convex flint knife, juvenile, juvenile burial, juvenile inhumation burial, woodland, ecofact, ecofacts, hazelnut, hazelnuts, CPR, cpr, Charred Plant Remains, charred plant remains, settlement, structure, structures, roundhouse, round house, roundhouses, round houses, post-built, post built, post-built structure, post built structure, post-built structures, post built structures, well, wells, enclosure, enclosures, fenced enclosure, ditched enclosure, beam slot, beam-slot, Anglo-Saxon, anglo-saxon, Early Medieval, early medieval, enclosure ditch, early medieval enclosure ditch, Ashwell Street, ashwell street, plot, plots, trackway, wheel rut, wheel ruts, C14, c14, C14 dating c14 dating, radio-carbon date, Radio-Carbon Date, Full Report, full report, 2199, report 2199, Report 2199, OAE report 2199
Subjects:
Geographical Areas > English Counties > Cambridgeshire
Period > UK Periods > Bronze Age 2500 - 700 BC
Period > UK Periods > Early Medieval 410 - 1066 AD
Period > UK Periods > Medieval 1066 - 1540 AD
Period > UK Periods > Mesolithic 10,000 - 4,000 BC
Period > UK Periods > Bronze Age 2500 - 700 BC > Middle Bronze Age 1600 - 1,000 BC
Period > UK Periods > Neolithic 4000 - 2200 BC
Period > UK Periods > Post Medieval 1540 - 1901 AD
Divisions:
Oxford Archaeology East
Depositing User:

Hamilton

Date Deposited:
12 Nov 2020 14:32
Last Modified:
12 May 2022 12:43
URI:
http://eprints.oxfordarchaeology.com/id/eprint/5867
Actions (login required)