Booth, Rona (2020) Land south of 6 Hinton Way, Wilburton. [Client Report] (Unpublished)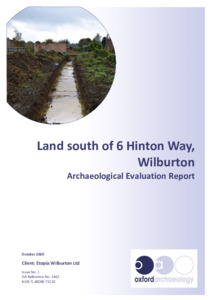 Preview
PDF




OAE_Report 2462_WBTHIN20_LR.pdf


Available under License Creative Commons Attribution Share Alike.
Download (4MB) | Preview
Abstract
Between the 5th and 9th of October 2020 Oxford Archaeology East undertook a trial trench evaluation on land south of 6 Hinton Way, Wilburton, Cambridgeshire (TL 48080 75150). The work was carried out in advance of a proposed residential development by Etopia Wilburton Ltd.
A total of ten trial trenches measuring 25m by 2m were excavated during the evaluation. Three of the trenches each revealed a single ditch and the remaining seven trenches were devoid of archaeological features. Two of the ditches (in Trench 3 and Trench 4) each produced a single sherd of medieval pottery whilst the third (in Trench 2) produced no dating evidence.
The results of the evaluation suggest limited activity prior to the main occupation of the site during the modern period, when it was utilised as an orchard with associated buildings.
Item Type:
Client Report
Uncontrolled Keywords:
Cambridgeshire, cambridgeshire, Wilburton, wilburton, Evaluation, evaluation, archaeological evaluation, Medieval, medieval, Pottery, pottery, pot, ceramic, sherd, vessel, Medieval pottery, medieval pottery, Ditch, ditch, Modern, modern, orchard, building, outbuilding, 2462, report 2462, Report 2462, OAE report 2462
Subjects:
Geographical Areas > English Counties > Cambridgeshire
Period > UK Periods > Medieval 1066 - 1540 AD
Period > UK Periods > Modern 1901 - present
Divisions:
Oxford Archaeology East
Depositing User:

Hamilton

Date Deposited:
19 Nov 2020 08:40
Last Modified:
19 Nov 2020 08:40
URI:
http://eprints.oxfordarchaeology.com/id/eprint/5873
Actions (login required)