Bush, Louise (2016) Land West of No. 1 Claybush Road, Ashwell, Hertfordshire. [Client Report] (Unpublished)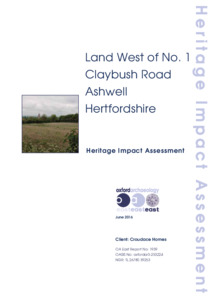 Preview
PDF




Report 1939_Claybush Road_HIA_LR.pdf


Available under License Creative Commons Attribution Share Alike.
Download (1MB) | Preview
Abstract
Oxford Archaeology East has been commissioned by Croudace Homes to undertake a Heritage Impact Assessment on a proposed 1.8 hectare development on the south-western edge of the historic village of Ashwell (centred on TL 26780, 39253). This was undertaken in order to assess the archaeological resource of the Site and to appraise the potential impacts upon the surrounding Historic Landscape and the assets within it.
Evidence for archaeological remains (in the form of a Scheduled Monument, Listed Buildings, cropmarks, findspots and sub-surface remains) from the Neolithic through to the modern period have been identified within the 0.5km study area, but outside the proposed development Site. Remains of Bronze Age date have the most potential to be present within the Site due to the presence of a number of probable barrow cropmarks within the immediate vicinity. There is also a high potential for post-medieval/modern remains as an early 19th century windmill is known to have stood in the south-west part the Site, which is illustrated on historic maps between 1822 and 1888.
Overall, the assessment has indicated that there is a moderate likelihood for preserved archaeological remains across the Site and that the proposed development has the potential to adversely affect any sub-surface remains.
The assessment has also demonstrated that, according to established baselines, development of the proposed Site has the potential to have a Slight effect upon the Historic Landscape and also on Arbury Banks Scheduled Monument (which is located 0.6km south-west of the Site). The Listed Buildings, located in the historic core of Ashwell, on the northern side of the modern day village are all either Grade II or II* Listed, the exception being the Church of St Mary which is Grade I Listed. The spire of St Mary's Church can be seen from the Site, therefore there is a Slight potential for impact upon the setting of this designated asset.
Item Type:
Client Report
Uncontrolled Keywords:
DBA, dba, Desk-based Assessment, desk-based assessment, HIA, hia, Heritage Impact Assessment, heritage impact assessment, Hertfordshire, hertfordshire, Ashwell, ashwell, 1939, report 1939, Report 1939, OAE report 1939
Subjects:
Geographical Areas > English Counties > Hertfordshire
Period > UK Periods > Bronze Age 2500 - 700 BC
Period > UK Periods > Iron Age 800 BC - 43 AD
Period > UK Periods > Medieval 1066 - 1540 AD
Period > UK Periods > Neolithic 4000 - 2200 BC
Divisions:
Oxford Archaeology East
Depositing User:

Hamilton

Date Deposited:
04 Dec 2020 10:10
Last Modified:
04 Dec 2020 10:10
URI:
http://eprints.oxfordarchaeology.com/id/eprint/5892
Actions (login required)