Lucking, Thomas (2019) Land to the East of Nayland Road, Great Horkesley, Essex. [Client Report] (Unpublished)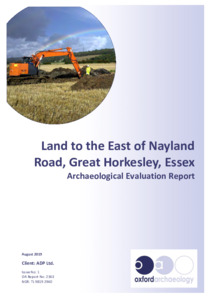 Preview
PDF




OAE_Report 2363_XEXGRH19_v1_LR.pdf


Available under License Creative Commons Attribution Share Alike.
Download (8MB) | Preview
Abstract
Between the 15th and 26th July 2019, Oxford Archaeology East (OA East) undertook an archaeological evaluation on land east of Nayland Road, Great Horkesley, Essex (TM 9819 2940). A total of 53 trenches were excavated.
The fieldwork identified archaeological remains in 26 of the trenches, with a greater concentration of features on the sloping ground forming the eastern half of the site and a sparser concentration on the plateau to the west. Residual worked flints were recovered, suggesting a background of prehistoric activity in the area, but no features were found that could be claimed as being of this period.
A previous geophysical survey of the site (Magnitude 2019) suggested the presence of firing or burning activity along the base of the slope in the southeastern part of the site, and a trench across one of these anomalies revealed evidence for a demolished, brick-built brick kiln and the in situ remains of a later brick-built structure which possibly represents either a brick kiln or ancillary structure. Analysis of bricks from these structures indicate an early 18th to early 19th-century date for this activity.
Evidence of a field system of 19th-century origin was revealed reflecting limited usage of the area as heavily wooded heathland until its enclosure in 1815. Several ditches were found to contain early 19th-century tile drains, appearing to have been part of a program of post-enclosure agricultural improvement.
Eight sub-circular pits were also revealed with charcoal rich fills, distributed across the site with no discernable pattern or grouping. None of these features contained any securely datable finds with only a single fragment of burnt flint recovered. No firm conclusions about their function were drawn, and while a prehistoric origin cannot be ruled out, it is possible that these pits represent much later management and clearance of the heath.
Item Type:
Client Report
Uncontrolled Keywords:
Essex, essex, Great Horkesley, great horkesley, Evaluation, evaluation, archaeological evaluation, Post-Medieval, post-medieval, Post Medieval, post medieval, kiln, brick, brick kiln, 19th century, 18th century, bricks, structure, wall, ancillary structure, CBM, cbm, Ceramic Building Material, ceramic building material, tile, tile drain, field drain, tile field drain, field system, land management, enclosure, Enclosure Act, enclosure act, woodland, woodland management, heath clearance, charcoal pit, agriculture, farming, farmland, 2363, report 2363, Report 2363, OAE report 2363
Subjects:
Geographical Areas > English Counties > Essex
Period > UK Periods > Post Medieval 1540 - 1901 AD
Divisions:
Oxford Archaeology East
Depositing User:

Hamilton

Date Deposited:
09 Dec 2020 07:40
Last Modified:
09 Dec 2020 07:40
URI:
http://eprints.oxfordarchaeology.com/id/eprint/5896
Actions (login required)