Kwiatkowska, Malgorzata (2020) Land off Manor Road, Witchford, Cambridgeshire. [Client Report] (Unpublished)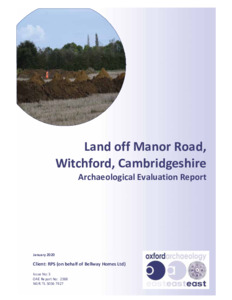 Preview
PDF




OAE_Report 2388_WFDMRD19_LR.pdf


Download (3MB) | Preview
Abstract
Between the 7th and the 22nd of October 2019, Oxford Archaeology East (OA East) conducted an archaeological investigation at land off Manor Road, Witchford, Cambridgeshire (centred TL 5036 7927) ahead of residential development. Twenty-five trenches were excavated.
The majority of archaeological remains were identified within the northern field and the eastern half of the southern field. In the northern field, a large boundary ditch, which contained a single residual prehistoric pottery sherd and a ditch containing an undated articulated cow skeleton were uncovered.
Ditches and gullies recognised within the eastern half of the southern filed are aligned on two orientations and as such suggest two possible phases of probable medieval agricultural activity, relating to a settlement nearby, but not within the site. These remains were extensive but not intensive in nature, indicating a low level of utilisation of this area.
Item Type:
Client Report
Uncontrolled Keywords:
Cambridgeshire, cambridgeshire, Witchford, witchford, Evaluation, evaluation, archaeological evaluation, Medieval, medieval, ditch, ditches, farming, agriculture, boundary, boundary ditch, prehistoric, prehistoric boundary ditch, field system, field systems, medieval field systems, medieval, field system, cow, cattle, cow skeleton, animal bone, animal bones, bone, bones, animal remains, pottery, Pottery, pot, ceramic, sherd, vessel, medieval, pottery, Medieval pottery, manuring, ploughing, furrow, furrows, ridge and furrow, farmland, slag, 2388, report 2388, Report 2388, OAE report 2388
Subjects:
Geographical Areas > English Counties > Cambridgeshire
Period > UK Periods > Medieval 1066 - 1540 AD
Divisions:
Oxford Archaeology East
Depositing User:

Hamilton

Date Deposited:
11 Dec 2020 07:14
Last Modified:
11 Dec 2020 07:14
URI:
http://eprints.oxfordarchaeology.com/id/eprint/5900
Actions (login required)