Knight, Toby (2019) Monk's Farm, Kelvedon. [Client Report] (Unpublished)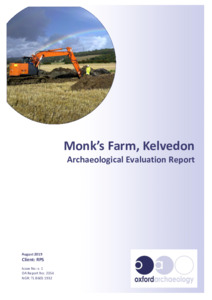 Preview
PDF




OAE_Report2354_XEXMOK19_LR.pdf


Available under License Creative Commons Attribution Share Alike.
Download (7MB) | Preview
Abstract
Between the 10th and 28th of June 2019, Oxford Archaeology East (OA East) conducted a programme of archaeological evaluation at Monks Farm, Kelvedon, Essex (TL 8605 1932). A total of 47 trenches were excavated within a proposed development area of c.9ha of agricultural land approximately 16 kilometres southwest of Colchester.
Overall, the evaluation produced significant results. A small amount of prehistoric archaeology was found in the form a series of small ditches and gullies in the south and west of the development area. Also, a ring gully terminus and an Early Bronze Age/Beaker pit were uncovered in the central part of the area.
Evidence for more sustained activity is suggested by the presence of extensive Roman remains dating predominantly to the 2nd and 3rd centuries AD. The focus of this activity was towards the eastern side of the development area, in the general direction of the known Roman town of Canonium, on which modern day Kelvedon now sits. A series of ditches, possibly representing enclosures, as well as pits, cremations and a beam slot structure associated with evidence for metal working were uncovered during the trenching and appear to represent an area of occupation and industrial activity in the hinterland of the Roman town.
The later Roman period is evidenced only by small amounts of 4th century pottery, and there thus appears to be a hiatus of activity until the Early to Middle Saxon period (AD 450-850). This phase of activity is represented by a
single, large curvilinear ditch, possibly forming some kind of enclosure. This produced 18 sherds of Early to Middle Anglo-Saxon pottery and a small amount of residual, prehistoric pottery. The purpose of the feature is, as yet
unknown. From previous works in and around Kelvedon, various Anglo-Saxon features have been identified. It is assumed that the main focus of activity for this period is centred on the Church of St Mary the Virgin approximately 700m to the south of the development area, with burial grounds discovered 800m to the east. The discovery of the enclosure within the development area is significant in extending the knowledge of Anglo-Saxon activity and possibly the formation or origins of the town during this period.
From the medieval period onwards, it appears that the site was turned over to agriculture. A small amount of abraded medieval pottery was recovered, mainly from a large boundary ditch running north to south across the site. This also produced artefacts of post-medieval date, including bottle glass, tile and CBM. This was the only significant feature that may have its origins in the medieval times, but most likely was of a later date, part of the field systems known to be in place in post-medieval times.
Item Type:
Client Report
Uncontrolled Keywords:
Evaluation, evaluation, archaeological evaluation, Essex, essex, Kelvedon, kelvedon, Bronze Age, bronze age, Roman, roman, Early medieval, early medieval, Pottery, pottery, pot, ceramic, sherd, vessel, Bronze Age pottery, bronze age pottery, Roman pottery, roman pottery, Early medieval pottery, early medieval pottery, Beaker, beaker, pit, ring gully, field system, enclosures, farming, agriculture, structure, beam slot, cremation, cremation burial, metal working, metalworking, ditch, boundary ditch, field system, 2354, report 2354, Report 2354, OAE report 2354
Subjects:
Geographical Areas > English Counties > Essex
Period > UK Periods > Bronze Age 2500 - 700 BC
Period > UK Periods > Bronze Age 2500 - 700 BC > Early Bronze Age 2500 - 1500 BC
Period > UK Periods > Early Medieval 410 - 1066 AD
Period > UK Periods > Post Medieval 1540 - 1901 AD
Period > UK Periods > Roman 43 - 410 AD
Divisions:
Oxford Archaeology East
Depositing User:

Hamilton

Date Deposited:
14 Dec 2020 10:54
Last Modified:
14 Dec 2020 10:54
URI:
http://eprints.oxfordarchaeology.com/id/eprint/5903
Actions (login required)