Mason, Neal and Lord, Adele (2017) Anglian Water Pipeline S98 Scheme – SEW-10721, Great Bowden, Market Harborough, Leicestershire. [Client Report] (Unpublished)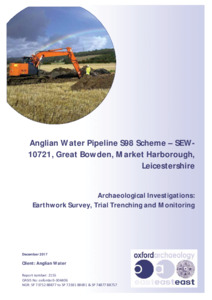 Preview
PDF




Report_2155_LR.pdf


Available under License Creative Commons Attribution Share Alike.
Download (10MB) | Preview
Abstract
Between the 9th of October 2017 and the 6th of April 2018, Oxford Archaeology East (OAE) undertook several phases of archaeological investigation on land to the east and west of Great Bowden, Leicestershire (SP 73750 88870 to SP 72380 88690 and SP 74870 88760). This entailed an earthwork survey to record ridge and furrow earthworks, followed by a trial trench evaluation (32 30mx1m trenches) along the route to the west of Great Bowden. Subsequently, three further areas were designated for further investigation following the results of the trial trenching. Finally, in March and early April 2018 a watching brief was carried out on land off Dingley Road to the east of Great Bowden.
In advance of the trial trenching an earthwork survey was carried out along the route of the pipeline in the four westernmost fields (Field 1 to 4) and in the field off Dingley Road (Field 6) in order to record the profile of the surviving ridge and furrow earthworks. Extensive and well preserved ridge and furrow is present in the vicinity of the pipeline route and the results of this survey were intended to aid the reconstruction of any features subject to disturbance during the proposed works.
Surviving ridge and furrow earthworks were identified in all of the fields surveyed to the west of Great Bowden, with the pipeline route passing through particularly well-preserved examples in the south-west of Field 2 and the north-east of Field 4. The pipeline passed through areas where headlands were preserved in Fields 2, 3 and 4.
The archaeological investigations revealed the remains of three early Romano-British boundary ditches within an arable field immediately to the west of the village (Field 5), along with several other linear features which the additional areas were targeted to investigate. Alignments of ridge and furrow extending to the south-western extremity of the site were also encountered.
Assemblages of early Roman ceramics were recovered from the ditches encountered in Field 5, together with post-medieval ceramics from the furrows.
Item Type:
Client Report
Uncontrolled Keywords:
Leicestershire, leicestershire, pipeline, pipe line, Anglian Water, anglian water, Evaluation, evaluation, archaeological evaluation, Earthwork Survey, earthwork survey, ridge and furrow, Ridge and Furrow, furrow, furrows, Furrow, Furrows, Great Bowden, great bowden, ditch, ditches, boundary, boundary ditch, boundary ditches, farming, agriculture, arable land, land management, pottery, Pottery, pot, ceramic, sherd, vessel, Roman pottery, roman pottery, Medieval pottery, medieval pottery, Post-Medieval, post-medieval, Post Medieval, post medieval, Post-Medieval pottery, post-medieval pottery, Post Medieval pottery, post medieval pottery, animal bone, animal bones, bone, bones, animal remains, clay pipe, clay tobacco pipe, CBM, cbm, Ceramic Building Material, ceramic building material, watching brief, Watching Brief, Monitoring Work, monitoring work, 2155, report 2155, Report 2155, OAE report 2155
Subjects:
Geographical Areas > English Counties > Leicestershire
Period > UK Periods > Medieval 1066 - 1540 AD
Period > UK Periods > Post Medieval 1540 - 1901 AD
Period > UK Periods > Roman 43 - 410 AD
Divisions:
Oxford Archaeology East
Depositing User:

Hamilton

Date Deposited:
15 Dec 2020 12:57
Last Modified:
15 Dec 2020 12:57
URI:
http://eprints.oxfordarchaeology.com/id/eprint/5904
Actions (login required)