Hayden, Chris Middle Bronze Age and Roman field systems: Excavations at Monks Farm (Phase 2), Grove, Oxfordshire. [Client Report] (Unpublished)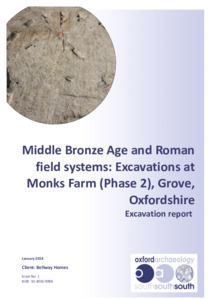 Preview
PDF




WAMK16.pdf


Download (4MB) | Preview
Abstract
A second phase of excavation at Monks Farm, Grove, in areas to the north of
those covered by a previous phase of excavation, have revealed continuations of the
middle Bronze Age field system partially exposed in the earlier excavation, as well as
parts of a Roman field system.
The middle Bronze Age features exposed in the second phase of excavation
include a continuation of the trackway revealed in Phase 1, the corner of a second
trackway, and a related series of rectilinear field boundaries. A penannular gully set
within the corner of one of the fields defined by these boundaries appears to have
been a focus of middle Bronze Age occupation. The middle Bronze Age features
provide significant new evidence for the establishment of field systems along the
Upper Greensand and Gault at the foot of the Berkshire Downs in the middle Bronze
Age, and for settlement within such field systems.
The Roman field system contains an unusual field containing a series of closely
set parallel gullies. Whilst this arrangement can be compared to 'lazybeds' perhaps
used elsewhere for irrigation related to horticulture, it is suggested that here they may
have been used for drainage.
The prehistoric and Roman features were overlain by the truncated remains of
ridge and furrow and more recent land drains.
Actions (login required)