Simmonds, Andrew and Brady, Kate and Welsh, Ken and Booth, Paul and Broderick, Lee and Cook, Sharon and Cotter, John and Donnelly, Mike and Keys, Lynne and Meen, Julia and Nicholson, Rebecca and Poole, Cynthia and Scott, Ian and Shaffrey, Ruth and Rousseaux, Charles and Farnan, Aidan and Wachnik, Magdalena Farm Lane, Shurdington, Gloucestershire Archaeological Excavation Report. [Client Report] (Unpublished)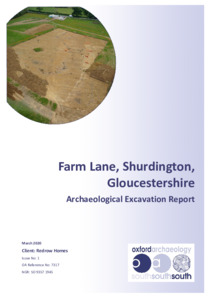 Preview
PDF




SHU15&17.pdf


Download (16MB) | Preview
Abstract
Excavations on land west of Farm Lane, Shurdington, Gloucestershire, uncovered evidence for a small Neolithic/early Bronze Age flint scatter and an agricultural landscape that was in use from the middle to late Iron Age until the end of the 2nd century AD. During the Iron Age the settlement was focused on a triangular enclosure that contained at least one roundhouse and a four-post structure, as well as an area of possible open settlement or livestock pens. The roundhouse was associated with radiocarbon dates of 370–160 and 200–40 cal BC. The Iron Age settlement appears to have been predominantly pastoral, exploiting the wet grassland of the clay vale, with an economy based on sheep with a smaller number of cattle and an unusually large number of pigs, but no evidence for cultivation of crops, though plant remains may simply not have been deposited in locations that rendered them archaeologically recoverable.
The Iron Age settlement was replaced during the second half of the 1st century AD by a much more extensive, polyfocal arrangement of enclosures, representing a significant increase in agricultural production that included arable and an increase in cattle and horses at the expense of sheep/goats and pigs. The location of the former enclosure remained the site of domestic occupation, now within a square enclosure, although no buildings were identified. A second domestic focus was identified from an artefactual concentration within an enclosure complex that extended beyond the western limit of the site, where evidence for crop processing and an oven or kiln of possible industrial function were located in association with a post-built building. The settlement was abandoned around the turn of the 2nd and 3rd centuries, perhaps due to the development of a possible villa at Brizen Playing Fields a short distance to the west. Thereafter a continued Roman presence on the site was indicated only by a small number of (mostly unstratified) artefacts.
A total of seven inhumation burials and two cremation burials were found, several of which were situated within or close to a 2nd century enclosure that may have had a funerary function.
Of particular note among the artefactual material were a very rare silver coin of the Dobunnic ruler Eisu and an irregular denarius of Titus bearing a hitherto unattested legend.
Field boundary ditches and a corn-drying oven dating from the mid 11th to mid 13th centuries were probably associated with the medieval settlement that preceded the adjacent Brizen Farm, and ridge and furrow cultivation was also in evidence.
Actions (login required)