Graham, Steven (2020) Land to the Rear of 10A Rosemary Road, Waterbeach: PXA and UPD. [Client Report] (Unpublished)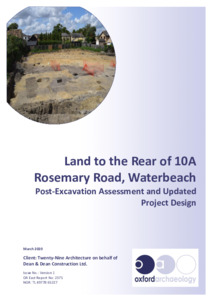 Preview
PDF




OAE_PXA Report_Waterbeach_LR.pdf


Available under License Creative Commons Attribution Share Alike.
Download (7MB) | Preview
Abstract
Between June and August 2019 Oxford Archaeology East (OA East) carried out archaeological excavations at land to the rear of 10A Rosemary Road, Waterbeach, Cambridgeshire. The site was excavated in two halves within the proposed 0.13ha residential development, targeting predominantly medieval remains revealed by a previous evaluation undertaken in 2017.
The earliest activity identified by the excavation includes a boundary ditch, which produced a small quantity of Roman pottery and a 4th-century coin, along with parallel ditches forming part of a possible trackway. Although undated, the latter were clearly on a different alignment to the numerous later boundaries encountered on the site and may feasibly have been associated with a series of Roman settlement enclosures and trackway on a similar axis located 1.2km south-west of Waterbeach village centre.
Tentative evidence for Middle Saxon activity is provided by a small group of pottery found as residual elements in later features. From the Late Saxon to high medieval periods the site was characterised by a sequence of enclosures and boundary ditches, some of which appear to have been relatively short-lived,with the densest activity focused in the eastern half of the excavation area. By the late medieval period the land appears to have largely reverted to fields, a situation which appears to have lasted until at least the latter part of the 19th century when the plot was covered by an orchard.
Whilst predominantly agricultural in nature, there was some evidence of domestic activity within the enclosures including possible structural remains, pits, a well/watering hole and the remains of a possible oven or hearth. Relatively small finds assemblages were recovered, hampering the dating of some features, although the animal bone, post-Roman pottery, worked bone and selected environmental samples all have good potential for further analysis. Objects of note include a fragment of (Roman) jet, a bone comb, needle and pin-beater alongside an unfinished antler knife handle; the latter all broadly datable to the 9th-12th centuries.
Item Type:
Client Report
Uncontrolled Keywords:
Cambridgeshire, cambridgeshire, Waterbeach, waterbeach, Excavation, excavation, archaeological excavation, PXA, pxa, UPD, upd, Update Project Design, updated project design, Post-Excavation Assessment, Post-excavation Assessment, post-excavation assessment, Roman, roman, Early medieval, early medieval, Medieval, medieval, Post-Medieval, post-medieval, Post Medieval, post medieval, Pottery, pottery, pot, ceramic, sherd, vessel, Roman pottery, roman pottery, Early medieval pottery, early medieval pottery, Medieval pottery, medieval pottery, Post-Medieval pottery, post-medieval pottery, Post Medieval pottery, post medieval pottery, coin, roman coin, Roman coin, Constans, Medieval coin, medieval coin, Henry II, Jetton, jetton, jeton, jeton, trackway, Roman trackway, roman trackway, pre-medieval trackway, waterhole, water hole, watering hole, ditch , ditches, boundary, boundary ditch, boundary ditches, roman boundary ditch, medieval boundary ditch, enclosure, enclosures, agriculture, land use, farming, orchard, post-medieval orchard, animal remains, animal bone, animal bones, bone, bones, butchery waste, cow, cattle, cattle burial, post-medieval cattle burial, cow skeleton, cattle skeleton, fuel ash slag, jet, 2375, report 2375, Report 2375, OAE report 2375
Subjects:
Geographical Areas > English Counties > Cambridgeshire
Period > UK Periods > Early Medieval 410 - 1066 AD
Period > UK Periods > Medieval 1066 - 1540 AD
Period > UK Periods > Modern 1901 - present
Period > UK Periods > Post Medieval 1540 - 1901 AD
Period > UK Periods > Roman 43 - 410 AD
Divisions:
Oxford Archaeology East
Depositing User:

Hamilton

Date Deposited:
25 Jan 2021 10:16
Last Modified:
25 Jan 2021 10:16
URI:
http://eprints.oxfordarchaeology.com/id/eprint/5917
Actions (login required)