Dunn, Paul (2020) Land South of Grange Road, Hugglescote, Leicestershire, Archaeological Evaluation, Strip-Map-and-Record and Watching Brief Report. [Client Report] (Unpublished)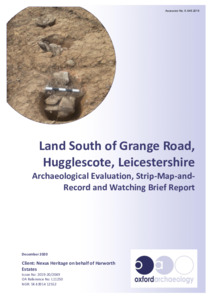 Preview
PDF




L11250_Report_Combined2.pdf


Download (5MB) | Preview
Abstract
Oxford Archaeology (OA) was commissioned by Nexus Heritage, on behalf of Harworth Estates (Agricultural Land Ltd), to undertake a programme of archaeological investigation on land south of Grange Road, Hugglescote, Leicestershire (centred on SK 4391 1255). The investigation included archaeological trial trenching, a strip-map-and-record excavation and an archaeological watching brief. This work was completed in order to fulfil an archaeological planning condition for the construction of a service road and roundabout, linked to the southern side of Grange Road, and two associated attenuation basins to the south, close to the River Sence. The fieldwork was undertaken between 9th July and 9th August 2019.
The investigations recorded a range of archaeological remains. These included some limited evidence for Mesolithic/Early Neolithic activity, represented by a single flint blade. Evidence for later prehistoric activity was also present in the form of a pit, which contained pottery that was possibly Late Bronze Age/Early Iron Age in date. Next to Grange Road, the remains of a later Iron Age sub-rectangular enclosure, 0.35ha in size, were also excavated,
the northern boundary of this enclosure being recorded during the strip-map-and-record excavation, approximately three-quarters of its internal area was stripped. No features were evident within the enclosure's interior, however, suggesting that it was used as a livestock corral, or that domestic structures were confined to its unexcavated southwestern corner. Other later Iron Age features included a boundary ditch and fenceline/palisade, associated with Iron Age ceramics, and residual Iron Age ceramic artefacts
recovered from later features. Several Roman-period ditched boundaries and a gully were also excavated, probably relating to a mid-late Roman-period field/enclosure system. It is also possible that an undated palisade and adjacent hearth, that post-dated the Iron Age enclosure, formed other elements associated with Roman-period activity. In addition, the partial remains of a roundhouse were evident, in the form of a drip/ring gully. This c 10mdiameter structure is undated, but probably formed part of a later prehistoric or RomanoBritish unenclosed settlement. In addition, several later remains were also recorded, including a post-medieval boundary ditch and a furrow, probably relating to Medieval/early post-medieval ridge and furrow ploughing.
Actions (login required)