Davies, Alex and Webley, Leo and Broderick, Lee and Cotter, John and Donnelly, Mike and Dungworth, David and Dunne, Julie and Evershed, Richard P. and Gillard, Toby and Meen, Julia and Poole, Cynthia and Scott, Ian and Shaffrey, Ruth and Rousseaux, Charles and Gane, Lucy A Middle Bronze Age Enclosure and Other Prehistoric to Early Medieval Activity at Nerrols Farm, Cheddon Fitzpaine, Somerset. [Client Report] (Unpublished)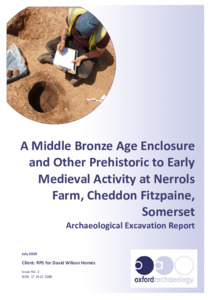 Preview
PDF




TTNCM_32_2019.pdf


Download (4MB) | Preview
Abstract
Excavations at Nerrols Farm, Cheddon Fitzpaine (ST 2415 2680), uncovered a
middle Bronze Age enclosure measuring 44m by 38.5m. The enclosure had
two phases and contained a roundhouse defined by a curving ditch
surrounding pits and postholes. The associated pottery belongs to the
Trevisker‐related series primarily found in Somerset. Seven pits within the
roundhouse and elsewhere within the enclosure were found to contain snugly
fitting pottery vessels. No cremated remains were discovered, and these were
probably used as sunken storage vessels. A programme of lipid analysis on the
pottery demonstrates that dairying was an important element of the site
economy. Another significant find was a fragment of a clay mould used for
casting a bladed implement, possibly a rapier. A sequence of radiocarbon
dates was taken through the enclosure ditch, demonstrating that it dated to
the 14th century cal BC.
Other discoveries include a group of early Neolithic pits; an early Bronze Age
ring ditch; two middle Iron Age roundhouses; and two early medieval pits, one
containing an iron knife and the other producing a radiocarbon date in the
7th–8th century cal AD.
Actions (login required)