Howsam, Charlotte Blenheim Net Zero Project, Woodstock, Oxfordshire. [Client Report] (Unpublished)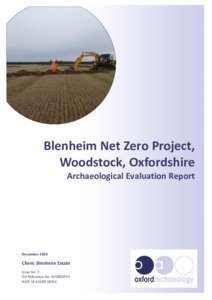 Preview
PDF




WOBNZP20.pdf


Download (9MB) | Preview
Abstract
Oxford Archaeology carried out an archaeological evaluation on the site of a
proposed solar farm that forms part of the Blenheim Net Zero Project,
Woodstock, Oxfordshire, in October 2020. The fieldwork was commissioned
by Blenheim Estate in support of a planning application.
A preceding geophysical survey of the 12ha site undertaken in May 2020
detected a small number of anomalies of possible and probable
archaeological origin. These were suggestive of successive trackways or field
boundaries, a D-shaped enclosure and a ring ditch. The geophysical survey
results also reflect numerous variations in the natural geology and modern
agricultural land use activities.
A total of 66 trenches were investigated across an 8.9ha area of the site that
will be directly impacted upon by the proposed development, the majority of
which were targeted upon geophysical anomalies. Of these, seven trenches
were found to contain archaeological remains comprising a small number of
ditches and pits concentrated in the south of the site. A moderately good
correlation between the results of the geophysical survey and archaeological
evaluation was demonstrated. A small quantity of worked flint and a pit containing broadly middle Bronze
Age to early Iron Age pottery provides limited evidence of low-level prehistoric
activity on site and within the surrounding landscape.
A series of parallel ditches appear to have delineated a trackway that crossed
the south of the site on an ENE–WSW alignment. The offset nature of one of
the ditches is suggestive of a different phase of the same trackway or perhaps
an associated field boundary. No associated metalled surfaces were revealed
by the evaluation. Small quantities of early and middle Roman pottery and
animal bones provide evidence of deposition that may have been related to
nearby settlement activity. Earthwork and cropmark evidence suggest that the
trackway was connected to a nearby Roman farmstead (Scheduled Monument
No. 1006357). The trackway perhaps formed part of a local network
associated with Akeman Street located to the north, connecting nearby
settlement and villa sites to the major Roman road.
Limited late post-medieval/modern remains are demonstrative of agricultural
use of the landscape during this period.
Actions (login required)