Clarke, Graeme (2019) Saxo-Norman and Medieval Activity at Biggleswade Road, Potton, Bedfordshire. [Client Report] (Unpublished)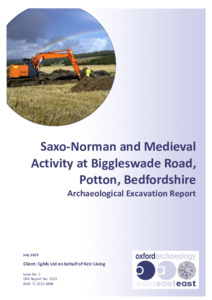 Preview
PDF




OAE_Report 2325_XBDPOT16_HR.pdf


Available under License Creative Commons Attribution Share Alike.
Download (6MB) | Preview
Abstract
Between the 25th February and 4th April 2016 Oxford Archaeology East (OA East) carried out excavations on land east of Biggleswade Road, Potton, Bedfordshire. In total c.0.9ha was investigated by three areas of excavation (Areas A to C).
The works uncovered ditched boundaries, pits and post holes associated with Saxo-Norman (c.AD1066-1150) and early medieval (c.AD1150-1250) occupation of the site. Saxo-Norman features were present in both Area A (adjacent to Biggleswade Road) and Area C, immediately south of Home Farm; possibly the site of one of Potton's two medieval manorial farms. The remains in Area A comprised part of a rectilinear ditched enclosure which surrounded a number of pits containing refuse and oven waste suggestive of domestic settlement. Significantly, Area C appeared to have uncovered part of an agricultural complex of buildings and features that probably relate to corn-drying activities. Both areas of Saxo-Norman occupation appeared to have been largely abandoned by the early medieval period with only a further short-lived episode of settlement evident in Area A.
The remains uncovered by the excavation are of local and regional significance. A rarely excavated group of Saxo-Norman remains related to arable agriculture have been documented that may shed some light on the corn-drying process being carried out in Potton during this period. The significance of these remains may be further strengthened by a possible association with a potential manorial estate centred on the adjacent Home Farm.
Item Type:
Client Report
Uncontrolled Keywords:
Bedfordshire, bedfordshire, Potton, potton, Excavation, excavation, archaeological excavation, Full Report, full report, Medieval, medieval, Saxo-Norman, saxo-norman, Pottery, pottery, pot, ceramic, sherd, vessel, Medieval pottery, medieval pottery, Early Medieval, early medieval, Early Medieval pottery, early medieval pottery, farm, manorial farm, agriculture, farming, agricultural complex, corndrying, corn drying, enclosure, arable agriculture, arable farming, animal bone, animal bones, animal remains, bone, bones, 2325, report 2325, Report 2325, OAE report 2325
Subjects:
Geographical Areas > English Counties > Bedfordshire
Period > UK Periods > Early Medieval 410 - 1066 AD
Period > UK Periods > Medieval 1066 - 1540 AD
Divisions:
Oxford Archaeology East
Depositing User:

Hamilton

Date Deposited:
11 Mar 2021 08:10
Last Modified:
11 Mar 2021 08:10
URI:
http://eprints.oxfordarchaeology.com/id/eprint/5954
Actions (login required)