Kwiatkowska, Malgorzata (2019) Fairfield Park, Stotfold, Bedfordshire. [Client Report] (Unpublished)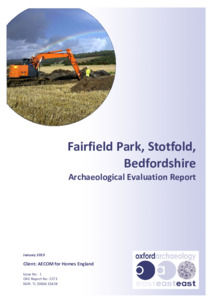 Preview
PDF




Fairfield Park Report 2273_Edited1.pdf


Available under License Creative Commons Attribution Share Alike.
Download (6MB) | Preview
Abstract
Between 10th and 13th December 2018, Oxford Archaeology East (OA East) conducted an archaeological investigation at land off Hitchin Road, Fairfield Park, Stotfold, Bedfordshire (TL 20606 35428) ahead of an application for residential development at the site. A geophysical survey was carried out by Magnitude Survey prior to the evaluation works (Swinbank, 2018).
No evidence related to the Bronze Age/ Iron Age settlement located directly to the west of current works was recognised during this evaluation. The evaluation revealed a small number of undated features, comprised of few linear ditches and three pits. These remains, located in the eastern part of the site, possibly represent a continuation of the post-medieval agricultural cultivation ditches recorded directly to the south of the site. However, no datable material was recovered from these features. The western half of the proposed development area was largely devoid of archaeology, with a single undated discrete feature uncovered by Trench 2.
Findings of the evaluation confirmed the geophysical survey results that the area was largely devoid of archaeology and the linear feature targeted by Trenches 7 and 8 was not present.
Item Type:
Client Report
Uncontrolled Keywords:
Bedfordshire, bedfordshire, Stotfold, stotfold, evaluation, Evaluation, archaeological evaluation, pit, ditch, CBM, cbm, Ceramic Building Material, ceramic building material, Brick, brick, Post-Medieval, post-medieval, Post Medieval, post medieval, Post-Medieval CBM, post-medieval CBM, Post Medieval CBM, post medieval CBM, 2273, report 2273, Report 2273, OAE report 2273
Subjects:
Geographical Areas > English Counties > Bedfordshire
Period > UK Periods > Post Medieval 1540 - 1901 AD
Divisions:
Oxford Archaeology East
Depositing User:

Hamilton

Date Deposited:
11 Mar 2021 11:26
Last Modified:
11 Mar 2021 11:26
URI:
http://eprints.oxfordarchaeology.com/id/eprint/5955
Actions (login required)