Webb, Robin (2020) Land north of Furzenhall Road, Biggleswade, Bedfordshire. [Client Report] (Unpublished)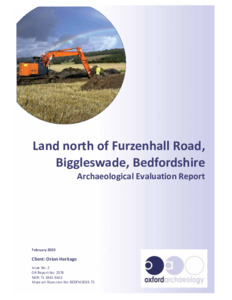 Preview
PDF




OAE_Report 2378_XBDBIN19_LR.pdf


Available under License Creative Commons Attribution Share Alike.
Download (5MB) | Preview
Abstract
Between the 2nd of September and the 15th of October 2019 Oxford Archaeology East conducted an archaeological evaluation on land off Furzenhall Road, Biggleswade, Bedfordshire (centred on TL 1945 3462). A total of 75 trenches were excavated within an area of proposed residential development, covering 5% of a 16.8ha area. The site was located on relatively flat land on arable farmland on the north-eastern edge of Biggleswade.
The earliest remains consisted an Iron Age enclosure with associated ditches and pits that largely matched the geophysical survey results in the south-eastern corner, and two possible smaller enclosures towards the north. Roman features included ditches, on varying alignments, and pits which probably related to activity outside of a settlement. A ditched road may have had its origins in this period. The road continued to be used in the medieval and post-medieval periods, potentially destroying evidence of its earlier form. The presence of numerous ditches in the south-western corner of the site suggests fairly intensive medieval use, potentially adjacent to an area of settlement, whist the less dense area to the north-east attests agricultural activity during this period. Additional ditches in the post-medieval period form part of the landscaping of the Shortmead House Estate.
Although the finds assemblage recovered represents activity from the Middle-to-Late Iron Age, Early Roman, medieval and post-medieval periods, 30 residual Neolithic worked flints were also recovered. Finds included a penny of George V and additional fragments of iron, 5,731g of Iron Age and Roman pottery, 1,393g of medieval pottery and 847g of post-medieval pottery, 8,195g of medieval and later ceramic building material and 6,611g of animal bone. In addition, smaller quantities of metalworking debris, coal, burnt and worked stone objects, slate, post-medieval glass and clay tobacco pipe stems, and oyster shell were recovered. Environmental sampling of features from across the site revealed the presence of cereal grains and weed seeds as well as small amounts of chaff and legumes.
Item Type:
Client Report
Uncontrolled Keywords:
Bedfordshire, bedfordshire, Biggleswade, biggleswade, Evaluation, evaluation, archaeological evaluation, Iron Age, iron age, Middle Iron Age, middle iron age, Roman, roman, Medieval, medieval, Post-Medieval, post-medieval, Post Medieval, post-medieval, Modern, modern, Pottery, pottery, pot, ceramic, sherd, vessel, Iron Age pottery, iron age pottery, Middle Iron Age pottery, middle iron age pottery, Roman pottery, roman pottery, Medieval pottery, medieval pottery, Post-Medieval pottery, post-medieval pottery, Post Medieval pottery, post-medieval pottery, Coin, coin, George V, enclosure, Iron Age enclosure, iron age enclosure, road, ditched road, Roman road, medieval road, cultivation, agriculture, field system, field systems, roman field system, medieval field system, settlement periphery, CTP, ctp, clay tobacco pipe, 2378, report 2378, Report 2378, OAE report 2378
Subjects:
Geographical Areas > English Counties > Bedfordshire
Period > UK Periods > Iron Age 800 BC - 43 AD
Period > UK Periods > Iron Age 800 BC - 43 AD > Late Iron Age 100 BC - 43 AD
Period > UK Periods > Medieval 1066 - 1540 AD
Period > UK Periods > Iron Age 800 BC - 43 AD > Middle Iron Age 400 - 100 BC
Period > UK Periods > Modern 1901 - present
Period > UK Periods > Post Medieval 1540 - 1901 AD
Period > UK Periods > Roman 43 - 410 AD
Divisions:
Oxford Archaeology South > Buildings
Depositing User:

Hamilton

Date Deposited:
11 Mar 2021 11:53
Last Modified:
11 Mar 2021 11:53
URI:
http://eprints.oxfordarchaeology.com/id/eprint/5956
Actions (login required)