Atkins, Robert (2015) Land South of Hunstanton Commercial Park, Hunstanton, Norfolk. [Client Report] (Unpublished)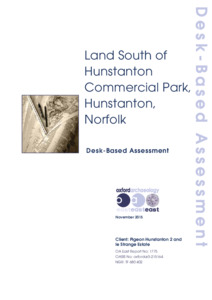 Preview
PDF




Report 1775_LR.pdf


Available under License Creative Commons Attribution Share Alike.
Download (1MB) | Preview
Abstract
In May 2015 Oxford Archaeology East (OA East) were commissioned by Pigeon Investment Management Ltd to undertake a desk-based assessment (DBA) in advance of a possible planning application. This DBA report assesses site F2.3, which comprises an agricultural field adjacent and to the east of the Kings Lynn Road (A149) on the outskirts of New Hunstanton.
A search of the Norfolk Heritage Environmental Record (NHER) was undertaken and cartographic and historical sources at the Norfolk Record Office were also consulted. The NHER search includes 14 earlier prehistoric records, including a hand axe, found within 50m of the site, and part of a Bronze Age barrow that extends into the site. Partially excavated in 1968, the barrow included a single central urned cremation as well as a satellite cremation. The remaining prehistoric entries are recorded within a distance of between 100m and 500m from the site. One record of note relates to a series of excavations carried out between 1970 and 2001, which revealed a regionally important landscape dating from the Neolithic to the Iron Age periods.
Fourteen records relating to Iron Age/Roman remains are located within the 0.7km study area. These include cropmarks of a probable settlement adjacent and to the east of the site while the remaining 13 records lie some 150m to 500m away. Four records relating to Anglo-Saxon activity were also identified along with seven medieval records, including a coin found directly to the west of the site and the rest being between 300m and 500m away. Over half (29) of the NHER entries consists of post-medieval and modern records. The only post-medieval archaeological feature recorded within the site comprises a routeway: part of the former route of the the present Lynn Road (A149). This routeway, which may have medieval origins, is shown on the 1837 century map and was subsequently straightened to being aligned along the western boundary of the site.
The map evidence shows that the site was part of the probable medieval (and early post-medieval) strip fields of Ringstead parish before it was enclosed in the late 18th century. Cartographic evidence shows that the field's boundaries (apart from the northern one) have not changed in the last 200 years.
A geophysical gradiometer survey undertaken in April 2014 did not identify any anomalies of probable archaeological origin but did map the periglacial natural features, in addition to an area of possible linear and curvilinear anomalies that were found in the far western part of the area (Richardson 2014).
This DBA has assessed that there is a high potential for earlier prehistoric remains to be present within the site, low to medium for Iron Age/Roman remains and low potential for all other periods.
Item Type:
Client Report
Uncontrolled Keywords:
Norfolk, norfolk, Hunstanton, hunstanton, DBA, dba, Desk-Based Assessment, Desk-based Assessment, desk-based assessment, Prehistoric, prehistoric, Iron Age, iron age, Roman, roman, 1775, report 1775, Report 1775, OAE report 1775
Subjects:
Geographical Areas > English Counties > Norfolk
Period > UK Periods > Bronze Age 2500 - 700 BC
Period > UK Periods > Iron Age 800 BC - 43 AD
Period > UK Periods > Roman 43 - 410 AD
Divisions:
Oxford Archaeology East
Depositing User:

Hamilton

Date Deposited:
15 Mar 2021 09:10
Last Modified:
15 Mar 2021 09:10
URI:
http://eprints.oxfordarchaeology.com/id/eprint/5963
Actions (login required)