Collie, Tom (2018) Land at Maldon Road, Burnham West, Burnham-on-Crouch, Essex. [Client Report] (Unpublished)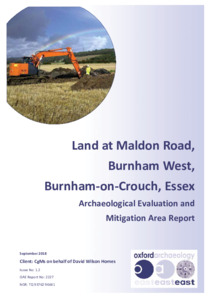 Preview
PDF




BCWB18_Report_2227_FINAL_LR.pdf


Available under License Creative Commons Attribution Share Alike.
Download (6MB) | Preview
Abstract
Between the 16th April and the 29th May 2018, OA East conducted an archaeological evaluation and mitigation works at land off Maldon Road (B1010), Burnham-on-Crouch, Essex. The work was undertaken in advance of a proposed development entailing industrial units and residential housing.
A total of 75 evaluation trenches totaling 2,250 linear metres were excavated, targeting both geophysical anomalies and blank areas across the site, 32 of which contained archaeological features. Extensions to three of these trenches were made subsequently in order to trace any further associated archaeological remains. A phase of geo-archaeological test pitting was also undertaken to investigate the location and composition of Pleistocene deposits. As part of a mitigation strategy to deal with archaeology located under a proposed haul road, a further three open areas were excavated, which encompassed and expanded areas where Trenches 65-69 were located.
The results of the evaluation can be broadly separated into three zones. Archaeology revealed in the northern zone (Zone A) pertained to the post-medieval/modern period and was present in Trenches 1-33. Trenches 34-64 in Zone B, situated in the middle of the site, contained a low concentration of archaeology from the Late Bronze Age period and consisted of linear ditch features, pits and postholes. The third zone (Zone C) located at the southern end of site (Trenches 65-75) uncovered further features dating to the Late Bronze Age period, including ditches and pits. The ditches appear to correspond to known cropmarks and geophysical anomalies in the immediate area.
Further Bronze Age features were revealed in the expanded excavation areas in the mitigation zone (Areas 1-3) located in the southern part of the site (Zone C), where enclosures, ring ditches and other anomalies had been identified by the geophysical survey. Several cremation burials of probable Middle to Late Bronze Age date (indicated by a radiocarbon date of one of the cremations) were revealed, including a cluster at the western edge of Area 2 that was possibly located between two ditches. Other features include pits, postholes and a large waterhole (possibly Middle Iron Age) with associated assemblages of Late Bronze Age pottery and fire-cracked flint, while several ditches appear to have been related to a contemporary field system. Of significance is the assemblage of briquetage recovered from some of the Late Bronze Age features, and one pit in particular; interpreted as a settling tank. This evidence places the site neatly in context with the eponymous 'Red Hills' of Essex, although saltworking sites of this early date are still relatively rare in the region. A number of Roman ditches and features were also revealed that appear to have been located on the periphery of an Early Roman farmstead previously investigated to the east of the site.
Item Type:
Client Report
Uncontrolled Keywords:
Essex, essex, Burnham on Crouch, burnham on crouch, Burnham-on-Crouch, burnham-on-crouch, Evaluation, evaluation, archaeological evaluation, mitigation, Bronze Age, bronze age, salt making, salt working, briquetage, fired clay, fired clay briquetage, pottery, Pottery, pot, ceramic, sherd, vessel, Late Bronze Age, late bronze age, Bronze Age pottery, bronze age pottery, Late Bronze Age pottery, late bronze age pottery, Roman, roman, Roman pottery, roman pottery, cremation, cremations, cremation burial, cremation burials, human remains, cremated human remains, Bronze Age cremation, Bronze Age cremation burial, bronze age cremation, bronze age cremation burial, settling tank, waterhole, Iron Age, iron age, Iron Age waterhole, flint, flints, lithic, lithic implements, lithic implement, worked flint, worked flints, fire-cracked flint, fire cracked flint, pit, ditch, post hole, Radiocarbon Date, radiocarbon date, C14, c14, Red Hills of Essex, 2227, report 2227, Report 2227, OAE report 2227
Subjects:
Geographical Areas > English Counties > Essex
Period > UK Periods > Bronze Age 2500 - 700 BC
Period > UK Periods > Iron Age 800 BC - 43 AD
Period > UK Periods > Bronze Age 2500 - 700 BC > Late Bronze Age 1000 - 700 BC
Period > UK Periods > Bronze Age 2500 - 700 BC > Middle Bronze Age 1600 - 1,000 BC
Divisions:
Oxford Archaeology East
Depositing User:

Hamilton

Date Deposited:
30 Mar 2021 08:38
Last Modified:
30 Mar 2021 08:38
URI:
http://eprints.oxfordarchaeology.com/id/eprint/5970
Actions (login required)