Firth, Dan and Billington, Lawrence (2019) Lodge Farm, Costessey, Norfolk (Phase 2). [Client Report] (Unpublished)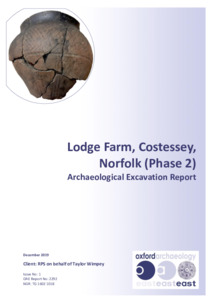 Preview
PDF




OAE_Reort No2292_XNFLFC19_ HR.pdf


Available under License Creative Commons Attribution Share Alike.
Download (10MB) | Preview
Abstract
Between the 21st of January and the 1st of March 2019, Oxford Archaeology East carried out archaeological excavations in three areas (Area B, C and E), in the southern part of the Lodge Farm Phase 2 Development Area, Costessey, Norfolk (centred TG 1602 1018). The excavations, covering a total area of c.1.5ha, were targeted on features identified through a combination of cropmarks, geophysical survey and trial trenching, and followed an earlier phase of excavations in the northern part of the development area undertaken by Archaeological Solutions.
The earliest remains recorded related to Neolithic and Early Bronze Age activity. A single pit associated with Early Neolithic pottery was found in Area B, and a Beaker associated pit in Area C. Several tree throw features in Areas B and C also produced Neolithic/Early Bronze Age flintwork whilst an undated cremation burial and a small pennanular ring ditch in Area B may also date to this broad period.
In Area B, evidence for Middle Iron Age settlement was recorded in the form of dispersed pits, some of which were associated with substantial pottery assemblages, and which included several large steep sided features of the kind usually interpreted as grain storage pits. There was no evidence for contemporary activity in the other excavation areas, but a regular rectangular enclosure of Late Iron Age date was exposed in Area C, and was associated with a possible beam slot structure.
Early Roman (1st to 2nd century AD) remains were encountered in all three excavation areas, with a series of rectilinear fields/enclosures in Area B, a rectilinear enclosure in Area C and a series of boundary/trackway ditches in Area E. All of these ditched systems were laid out on broadly north to south/east to west alignments and clearly belong to a much more extensive system of boundaries and enclosures over the wider development area, known from cropmarks and previous excavations. Few of the Early Roman features produced substantial finds assemblage and there were no structures and few discrete features. On this basis, many of the enclosures could relate to agricultural use, although the finds from some of the ditches suggest that there may have been some domestic-type activity in the immediate vicinity of Areas B and C.
There was no evidence for later Roman activity, and the only post-Roman features were a series of charcoal-rich pits found across all three excavation areas. Two of these feature have been radiocarbon dated to the Anglo-Saxon period (the more reliable dating suggesting a Late Saxon date) and they can be compared to analogous features known from other sites in the region which have been interpreted as relating to charcoal production.
Item Type:
Client Report
Uncontrolled Keywords:
Norfolk, norfolk, Costessey, costessey, Excavation, excavation, archaeological excavation, cropmarks, cropmark, crop mark, geophysical survey, Neolithic, neolithic, Bronze Age, bronze age, Early Bronze Age, early bronze age, Iron Age, iron age, Middle Iron Age, middle iron age, Late Iron Age, late iron age, Roman, roman, Early Medieval, early medieval, Pottery, pottery, pot, ceramic, sherd, vessel, Neolithic pottery, neolithic pottery, Bronze Age pottery, bronze age pottery, Early Bronze Age pottery, early bronze age pottery, Iron Age pottery, iron age pottery, Middle Iron Age pottery, middle iron age pottery, Late Iron Age pottery, late iron age pottery, Roman pottery, roman pottery, Beaker, beaker, Beaker pottery, beaker pottery, Beaker Vessel, Beaker vessel, beaker vessel, cremation, cremation burial, cremated remains, cremated human remains, human remains, undated cremation, ring ditch, penannular ring ditch, Settlement, settlement, Middle Iron Age settlement, middle iron age settlement, settlement activity, grain storage pit, rectangular enclosure, Late Iron Age rectangular enclosure, late iron age rectangular enclosure, beam slot structure, structure, beam slot, beamslot, field system, field systems, Roman field system, roman field system, enclosure, enclosures, rectilinear field, rectilinear fields, Roman enclosure, roman enclosures, Roman rectilinear field, roman rectilinear fields, roman rectilinear field, Roman rectilinear fields, agriculture, land use, boundary, boundaries, trackway, trackways, charcoal production, Early medieval charcoal production, early medieval charcoal production, C14 c14, carbon dating, 2292, report 2292, Report 2292, OAE report 2292, Fired Clay, fired clay, weight, weights, fired clay weights, loomweight, thatch weight, loom weight, flint, flints, worked, flint, worked flints, lithic, lithics, lithic implement, lithic implements, burnt flint, quern, quern stone, lava quern, quern fragment, hammerstone
Subjects:
Geographical Areas > English Counties > Norfolk
Period > UK Periods > Bronze Age 2500 - 700 BC
Period > UK Periods > Bronze Age 2500 - 700 BC > Early Bronze Age 2500 - 1500 BC
Period > UK Periods > Early Medieval 410 - 1066 AD
Period > UK Periods > Neolithic 4000 - 2200 BC > Early Neolithic 4000 - 3000 BC
Period > UK Periods > Iron Age 800 BC - 43 AD
Period > UK Periods > Iron Age 800 BC - 43 AD > Late Iron Age 100 BC - 43 AD
Period > UK Periods > Iron Age 800 BC - 43 AD > Middle Iron Age 400 - 100 BC
Period > UK Periods > Neolithic 4000 - 2200 BC
Period > UK Periods > Roman 43 - 410 AD
Divisions:
Oxford Archaeology East
Depositing User:

Hamilton

Date Deposited:
01 Apr 2021 08:49
Last Modified:
01 Apr 2021 08:49
URI:
http://eprints.oxfordarchaeology.com/id/eprint/5971
Actions (login required)