Kwiatkowska, Malgorzata (2021) Land at Manor Park (Hall Lane), Drayton, Norfolk. [Client Report] (Unpublished)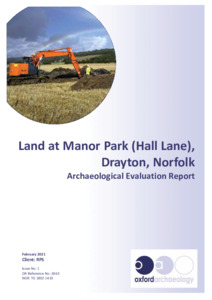 Preview
PDF




OAE_Report2463_XNFMFD20_LR.pdf


Available under License Creative Commons Attribution Share Alike.
Download (4MB) | Preview
Abstract
Between 5th and 23rd October 2020 Oxford Archaeology East was commissioned to evaluate the land at Manor Park (Hall Lane), Drayton, Norfolk (centred TG 1802 1433). In total 59 trenches were excavated, of which 43 uncovered archaeological features. These (mostly undated) remains represent scattered archaeology of one or two shallow features per trench which were filled by predominantly sterile deposits.
Three distinct periods of activity were identified across the site. Within the northern part of the site, a linear feature uncovered in Trench 39 produced an assemblage of Early Neolithic flintwork. This is quite unusual as similar assemblages of flintwork are typically associated with discrete features. Furthermore, 17 sherds of later prehistoric pottery was recovered from features uncovered by four nearby trenches (Trenches 38, 39, 42 and 44) to suggest this part of the site possibly also encompassed an area of Late Bronze Age/Early Iron Age settlement activity.
Most of the post-medieval and modern features lay in the southern part of the site. A possible trackway was identified along the western site limit within Trench 5. Post-medieval activity included quarrying for underlying sand. A number of linear ditches uncovered by the trenches represent former field boundaries identified on historical maps.
Item Type:
Client Report
Uncontrolled Keywords:
Evaluation, evaluation, archaeological evaluation, Norfolk, norfolk, Drayton, drayton, Prehistoric, prehistoric, Neolithic, neolithic, Late Bronze Age, late bronze age, Early Iron Age, early iron age, Post-Medieval, post-medieval, Post Medieval, post medieval, Pottery, pottery, pot, ceramic, sherd, vessel, Late Bronze Age pottery, late bronze age pottery, Early Iron Age pottery, early iron age pottery, Post-Medieval pottery, post-medieval pottery, Post Medieval pottery, post medieval pottery, flint, flints, worked flint, lithic, lithics, worked flints, prehistoric worked flint, settlement, settlement activity, Late Bronze Age settlement activity, late bronze age settlement activity, Early Iron Age settlement activity, early iron age settlement activity, trackway, track way, track, quarry, quarry pit, quarry pits, extractive pit, post-medieval quarrying, ditch, ditches, boundary, boundary ditch, boundary ditches, field system, field systems, post-medieval field system, agriculture, historic map, 2463, report 2463, Report 2463, OAE report 2463
Subjects:
Geographical Areas > English Counties > Norfolk
Period > UK Periods > Bronze Age 2500 - 700 BC
Period > UK Periods > Iron Age 800 BC - 43 AD > Early Iron Age 800 - 400 BC
Period > UK Periods > Iron Age 800 BC - 43 AD
Period > UK Periods > Bronze Age 2500 - 700 BC > Late Bronze Age 1000 - 700 BC
Period > UK Periods > Modern 1901 - present
Period > UK Periods > Neolithic 4000 - 2200 BC
Period > UK Periods > Post Medieval 1540 - 1901 AD
Divisions:
Oxford Archaeology East
Depositing User:

Hamilton

Date Deposited:
12 Apr 2021 09:27
Last Modified:
12 Apr 2021 09:27
URI:
http://eprints.oxfordarchaeology.com/id/eprint/5974
Actions (login required)