Nicholls, Kathryn (2016) Land North of Back Street, Gayton, Norfolk. [Client Report] (Unpublished)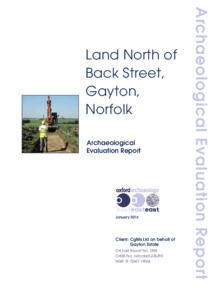 Preview
PDF




Report 1882_LR2.pdf


Available under License Creative Commons Attribution Share Alike.
Download (4MB) | Preview
Abstract
Between the 7th and 16th December 2015 Oxford Archaeology East undertook an archaeological evaluation at land north of Back Street, Gayton, Norfolk (TF 72607 19054). This evaluation comprised 14 trenches varying in length between 20m and 50m. A geophysical survey took place prior to evaluation which gathered a number of positive responses, some of which appeared to be ditches representing boundaries or enclosures. In most cases where responses occurred features were uncovered although the geophysics did not locate all archaeological features encountered on site. The majority of the trenches (11 in total) were in the main field, two were in horse paddocks and one was in a farmyard.
Three of the trenches were devoid of archaeology (Trench 1, 8 and 11). The features uncovered elsewhere largely comprised ditches, although pits, post holes and other deposits were identified. A series of parallel linear features may represent marling ditches, field divisions or cultivation strips, most likely medieval in date. A large square enclosure was also present, which is also likely to be medieval in date. Post-medieval or early modern field boundaries were identified, particularly on the eastern edge of the site.
A number of earthworks are present in the western end of the site, one of which was investigated. Here bank material was noted along with three ditches. A further six ditches were identified with either an east to west or east-north-east to west-south-west alignment in trenches 5 and 7. Here no bank material was recorded possibly due to modern ploughing, however these ditches are thought to relate in some way to the earthworks seen to the west. These ditches and earthworks appear to be enclosed to the east by a large boundary ditch which is aligned roughly north to south. These features are most likely agricultural in origin as there is no evidence to suggest settlement.
Only a small assemblage of pottery was recovered from the site along with animal bone. A small assemblage of pottery was recovered from the site, the majority of which was medieval in date. There were also a few sherds of Iron Age and Roman date, suggesting land-use began in the Roman period or earlier.
Item Type:
Client Report
Uncontrolled Keywords:
Norfolk, norfolk, Gayton, gayton, Evaluation, evaluation, archaeological evaluation, ditch, ditches, marling pit, marling pits, pit, pits, Medieval, medieval, Pottery, pottery, pot, ceramic, sherd, vessel, Medieval pottery, medieval pottery, earthwork, earthworks, bank, bank material, Iron Age pottery, iron age pottery, Roman pottery, roman pottery, 1882, report 1882, Report 1882, OAE report 1882, animal bones, animal bone, bones, bone, animal remains
Subjects:
Geographical Areas > English Counties > Norfolk
Period > UK Periods > Medieval 1066 - 1540 AD
Divisions:
Oxford Archaeology East
Depositing User:

Hamilton

Date Deposited:
13 Apr 2021 06:06
Last Modified:
13 Apr 2021 11:28
URI:
http://eprints.oxfordarchaeology.com/id/eprint/5977
Actions (login required)