Gill, Jonathan Former Gasworks Bishop Bridge Road Norwich Historic Building Investigation and Recording. [Client Report] (Unpublished)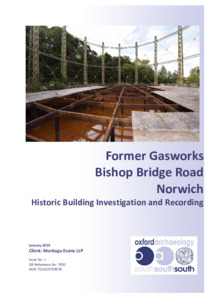 Preview
PDF




NORGAS18.pdf


Download (14MB) | Preview
Abstract
Oxford Archaeology was commissioned by Montagu Evans LLP on behalf of National Grid to
create an historic building record of the surviving structures at the former gasworks at Bishop
Bridge Road, Norwich prior to and during the dismantling of the gasholders. This forms part
of a national programme of recording these distinctive structures which have formed familiar
landmarks in towns and cities throughout much of the 19th and 20th centuries. The work has
provided for posterity an archive record of these distinctive structures and it will allow
comparison with other sites.
An initial report was produced in July 2018 to document the structures prior to the demolition
of the holders and the current report is an updated version of this, to include information
gathered from observations made during the demolition works. The project has also included
research on the history of the site.
The gasworks at Bishop Bridge was first established in 1830 as a larger new site for the
Norwich Gas Light Company which had been formed a decade earlier. The works expanded
during the 19th and 20th centuries but much of the site was redeveloped in the later 20th
century following the national policy of switching from town gas produced by burning coal to
natural gas. Prior to the current project two gasholders remained, detached from each other
by a recent housing development, and they can be seen to represent two distinct phases of
gasholder design. The older gasholder (No.184) was a late Victorian structure (constructed in
1894) of the frame-guided type while the other gasholder (No. 185) had a spiral-guided
(telescopic) design typical for the 20th century. It is known from map evidence that a gasholder
was first constructed on the site of No.185 at some point between 1905 and 1912 but a plan
held at the Gas Archive suggests the possibility that this holder was reconstructed in the 1950s.
It had been speculated that the entire holder may have been reconstructed in the 1950s but
observations made during the demolition phase suggest that the internal structure is more
suggestive of a date between 1905 and 1912 than one from the 1950s.
The internal structure of the older holder has also been recorded when it was exposed during
the demolition process and this was the primary fixed timber 'rest frame' from the 1890s that
the crown would only have rested on when the holder was empty of gas and in the lowered
position.
Actions (login required)