Blackbourn, Kathryn (2021) A Bronze Age Barrow with associated funerary evidence and a Roman trackway at Horseheath Road, Linton. [Client Report] (Unpublished)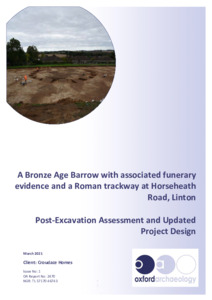 Preview
PDF




OAE_Report_2470_LINHOR20 PXA_v1_LR.pdf


Available under License Creative Commons Attribution Share Alike.
Download (5MB) | Preview
Abstract
From the 6th July to 4th September 2020 Oxford Archaeology East conducted an excavation at land south of Horseheath Road, Linton, Cambridgeshire (TL 57170 46743). Five phases of activity were identified at the site spanning the Early Bronze Age to post-medieval periods, with the majority of features dating to the Early to Middle Bronze Age, including a barrow and associated burials.
During the Early to Middle Bronze Age a barrow was constructed, which consisted of a large ring ditch measuring 32m in diameter (external) and which yielded a large assemblage of worked flint (30,229 pieces weighing 1177.89kg).
A single inhumation burial of an adult female was recovered from the centre of the barrow alongside pig and dog bone, and a large post-hole directly next to the grave appears to have acted as a grave marker. A small group of three urned cremations were also identified within the north-east part of the barrow dating to the Middle Bronze Age and a single un-urned cremation to the south. Three boundaries comprising two ditches and a post-built fence line and small group of four pits were also dated to this phase.
A small quantity of Roman pottery was recovered from across the site. The presence of a large fragment within one of the barrows ring ditch fills suggests that the barrow remained a prominent earthwork at this time and may have been subjected to some backfilling during this period. A trackway was identified in the western part of the site with a north-east to south-west alignment which was overlain by a layer of colluvium.
Within the southern part of the barrow a second inhumation burial was uncovered, the skeleton of a sub-adult in a supine position with two knife blades which have been dated to the Anglo-Saxon period. No other features or finds have been dated to this phase. Two ditches, representing enclosures and boundaries were identified in the western part of the site have been dated to the post-medieval period and a small group of undated ditches were uncovered to the north-west.
Other than the large quantity of worked flint recovered from the barrow's ring ditch, all other finds were recovered in fairly small quantities and included prehistoric and Roman pottery, animal bone, metal working debris, stone and ceramic building material. Although a number of environmental samples were taken from across the site, preservation was fairly poor.
Item Type:
Client Report
Uncontrolled Keywords:
Linton, linton, Cambridgeshire, cambridgeshire, excavation, Excavation, archaeological excavation, Bronze Age, bronze age, Barrow, barrow, Bronze Age barrow, bronze age barrow, Inhumation, inhumation, inhumation burial, skeleton, skele, HSR, hsr, Human Remains, human remains, cremation, Cremation, cremation burial, urned cremation, un-urned cremation, cremated bone, Bronze Age burial, bronze age burial, Bronze Age cremation, bronze age cremation, Early Bronze Age, early bronze age, Early Bronze Age burial, early bronze age burial, Middle Bronze Age, middle bronze age, Middle Bronze Age cremation, middle bronze age cremation, Pottery, pottery, pot, ceramic, sherd, vessel, cremation vessel, Bronze Age pottery, bronze age pottery, Early Bronze Age pottery, early bronze age pottery, Middle Bronze Age pottery, middle bronze age pottery, animal bone, animal bones, animal remains, bone, bones, knife, iron knife, Anglo-Saxon, anglo-saxon, anglo saxon, Anglo Saxon, Early Medieval, early medieval, Early Medieval inhumation, early medieval inhumation, Early Medieval burial, early medieval burial, Roman pottery, roman pottery, Post-Deverel-Rimbury, post-deverel-rimbury, PXA, pxa, UPD, pud, PXA and UPD, pxa and upd, Post-Excavation Assessment, post-excavation Assessment, post-excavation assessment, Updated Project Design, updated project design, CBM, cbm, Ceramic Building Material, ceramic building material, Post-Medieval, post-medieval, Post Medieval, post medieval, Brick, brick, 2470, report 2470, Report 2470, OAE report 2470
Subjects:
Geographical Areas > English Counties > Essex
Period > UK Periods > Bronze Age 2500 - 700 BC
Period > UK Periods > Bronze Age 2500 - 700 BC > Early Bronze Age 2500 - 1500 BC
Period > UK Periods > Early Medieval 410 - 1066 AD
Period > UK Periods > Bronze Age 2500 - 700 BC > Middle Bronze Age 1600 - 1,000 BC
Period > UK Periods > Post Medieval 1540 - 1901 AD
Period > UK Periods > Roman 43 - 410 AD
Divisions:
Oxford Archaeology East
Depositing User:

Hamilton

Date Deposited:
04 May 2021 10:11
Last Modified:
04 May 2021 10:11
URI:
http://eprints.oxfordarchaeology.com/id/eprint/5988
Actions (login required)