Webb, Robin (2016) An Archaeological Excavation of Roman Remains on Land at Johnston's Press, Oundle Road, Peterborough. [Client Report] (Unpublished)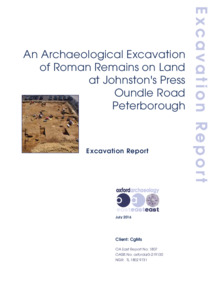 Preview
PDF




PETJPO15_Report_1807_LR.pdf


Available under License Creative Commons Attribution Share Alike.
Download (3MB) | Preview
Abstract
An archaeological excavation was carried out on the former Johnston's Press site, 322-328 Oundle Road, Peterborough, NGR TL 1802 9731. This work took place ahead of residential development for 93 houses and their associated infrastructure. The excavation in the north-east corner of the development area followed the identification of Iron Age and Roman features and a Roman grave during an archaeological evaluation.
The development area covered 2.3 hectares, with the excavation covering 880m² in its north-east corner. An additional 210m² was opened up on the western edge of the main excavation area in order to ascertain the limits of archaeological activity.
The excavation revealed elements of the periphery of a later Iron Age enclosed farmstead and Middle to Late Roman linear farmstead. The fields were most likely paddock enclosures, with grassland seed and little cereal grain being recovered from features. The later activity included eight burials near the edges of fields, with domestic activity reducing in the area. Evidence for activity within the site spans from the Iron Age, through the Roman period – though with a break in the Early Roman period. There was limited post-medieval activity.
The inhumations that were recovered from the site were Late Roman and had variations in the ways in which they were buried. The graves were shallow, and the skeletons were fragmented due to ploughing across the site. All of the skeletons were recovered from clusters that were within a 20m² area of the site. Four of the skeletons were of young adult males, one of a young adult female, one of a 40-45 year old female, and two of adults of indeterminate gender. Overall preservation levels of the bones was poor, with high fragmentation levels and little of the bone surface remaining. Three of the graves were aligned south to north, two west to east, two north-west to south-east, and one south-west to north-east. Four of the graves contained iron nails around the edges, indicating the presence of coffins. The graves probably represent a small family burial area on the edges of a field system.
Item Type:
Client Report
Uncontrolled Keywords:
Peterborough, peterborough, Excavation, excavation, archaeological excavation, Iron Age, iron age, Late Iron Age, late iron age, Roman, roman, Pottery, pottery, pot, ceramic, vessel, sherd, Iron Age pottery, iron age pottery, Late Iron Age pottery, late iron age pottery, Roman pottery, roman pottery, kiln furniture, kiln bar, fired clay, fired clay artefact, HSR, hsr, human remains, skeleton, inhumation, burial, grave, inhumation burial, burial group, Late Roman burial, late roman burial, Late Roman inhumation, late roman inhumation, animal remains, animal bone, animal bones, bone, bones, farmstead, farm stead, Iron Age farmstead, iron age farmstead, Roman farmstead, roman farmstead, linear farmstead, enclosed farmstead, agriculture, arable, arable farming, farming, nail, nails, quern, quern fragment, Roman quern fragment, roman quern fragment, plough damage, 1807, report 1807, Report 1807, OAE report 1807
Subjects:
Geographical Areas > English Counties > Cambridgeshire
Period > UK Periods > Iron Age 800 BC - 43 AD
Period > UK Periods > Iron Age 800 BC - 43 AD > Late Iron Age 100 BC - 43 AD
Period > UK Periods > Post Medieval 1540 - 1901 AD
Period > UK Periods > Roman 43 - 410 AD
Divisions:
Oxford Archaeology East
Depositing User:

Hamilton

Date Deposited:
05 May 2021 13:17
Last Modified:
05 May 2021 13:17
URI:
http://eprints.oxfordarchaeology.com/id/eprint/5990
Actions (login required)