Clarke, Graeme (2021) Iron Age Remains on Land South of Tamage Road, Acton, Suffolk. [Client Report] (Unpublished)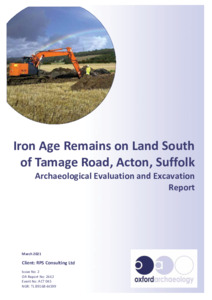 Preview
PDF




OAE_Report_2442_v2_XSFTRA20_LR.pdf


Available under License Creative Commons Attribution Share Alike.
Download (7MB) | Preview
Abstract
Between the 8th June and 16th July 2020 Oxford Archaeology East (OA East) carried out evaluation and subsequent excavation work at Land South of Tamage Road, Acton, Suffolk. Located within a single field, the 3.5ha development area was investigated by a total of 25 evaluation trenches with a single 0.35ha area of excavation on the north-eastern edge of the site, adjacent to Tamage Road.
The locations of the evaluation trenches were based on the results of a geophysical survey conducted across the development area in 2018. The evaluation uncovered ditches within the northern part of the development area, adjacent to Tamage Road, which produced pottery spot dated to the Late Iron Age along with a few earlier Iron Age sherds. A small assemblage of narrow flakes that refitted to a core of Early Neolithic origin was also recovered from a natural tree throw feature. The subsequent excavation targeted the area of Iron Age remains. This work revealed that the ditches partly defined the southern extent of a rectilinear enclosure which encompassed a watering hole and four small pits, possibly representing ad hoc hearths. These features produced material generated from the presumed nearby core of a domestic farmstead setting including: pottery, animal bone, a fragmentary loomweight, wall-surface daub and, significantly, an assemblage of Iron Age worked flint, including cores and other tool forms. In addition, a Colchester derivative Romano-British brooch was recovered from the fill of a natural solution hollow. These investigations also uncovered a set of poorly dated former field boundary ditches whose alignment respected the layout of the surrounding fields shown on 19th century maps of the site.
The excavation has revealed a locally significant group of Middle to Late Iron Age remains in a rural setting rarely excavated in this part of mid Suffolk. The watering hole and its surrounding features probably represent peripheral pastoral activity associated with a farmstead whose origins possibly lay in the Early Iron Age period. Enhanced by the Iron Age flint assemblage, this is a significant addition to the local archaeological record of the period.
Item Type:
Client Report
Uncontrolled Keywords:
Suffolk, suffolk, Acton, acton, Evaluation, evaluation, archaeological evaluation, Excavation, excavation, archaeological evaluation, Iron Age, iron age, Late Iron Age, late iron age, pottery, Pottery, pot, ceramic, sherd, vessel, Iron Age pottery, iron age pottery, Late Iron Age pottery, late iron age pottery, Neolithic, neolithic, lithic, lithics, lithic implement, lithic implements, flint, flints, worked flint, worked flints, Neolithic worked flint, neolithic worked flint, Iron Age worked flint, iron age worked flint, flint core, refit, enclosure, rectilinear enclosure, Iron Age rectilinear enclosure, boundary, boundary ditch, pit, pits, hearth, hearths, Colchester derivative Romano-British brooch, brooch, Roman brooch, roman brooch, animal bone, animal bones, animal remains, bone, bones, Post-Medieval field boundary, post-medieval field boundary, farmstead, Iron Age farmstead, 2442, report 2442, Report 2442, OAE report 2442
Subjects:
Geographical Areas > English Counties > Suffolk
Period > UK Periods > Iron Age 800 BC - 43 AD
Period > UK Periods > Neolithic 4000 - 2200 BC
Period > UK Periods > Post Medieval 1540 - 1901 AD
Divisions:
Oxford Archaeology East
Depositing User:

Hamilton

Date Deposited:
06 May 2021 06:02
Last Modified:
06 May 2021 06:02
URI:
http://eprints.oxfordarchaeology.com/id/eprint/5991
Actions (login required)