Rees, Gareth (2017) An Early to Middle Bronze Age settlement at Forest Heath, Fordham Road, Newmarket. [Client Report] (Unpublished)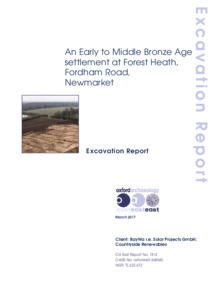 Preview
PDF




OAE_Report_1812_XSFFOD12EX_LR.pdf


Available under License Creative Commons Attribution Share Alike.
Download (7MB) | Preview
Abstract
Between 21st of January and 15th of February 2013 Oxford Archaeology East conducted an archaeological evaluation and subsequent excavation on land at Fordham Road, Newmarket, Suffolk (TL 632 672) in advance of the development of a solar farm.
This site uncovered here is of considerable regional significance. Settlements dating to the Early and Middle Bronze Age are rarely found and sites with dated features demonstrating continuity of activity are exceptional. The number of buildings dating to the Middle Bronze Age uncovered on this site make it the largest settlement of this period in the east of England.
A total of 15 (730m) evaluation trenches were opened, targeted on geophysical anomalies identified in the south-east corner of the site. Features identified by the geophysical survey proved to be both geological and archaeological, with archaeological features, predominantly ditches and post holes, dating to the Early and Middle Bronze Age. Based on this evidence two excavation areas were opened targeted on parts of the site where the development would impact on the archaeological deposits.
The northern area (A), measuring 56m from north to south and 22m from east to west (0.14ha), was targeted over a curvi-linear enclosure ditch. Area B, located 10m to the south and measuring 124m north-east to south-west by 65m north-west to south-east (0.54ha), was targeted over two ditched enclosures, a possible droveway and two areas of post holes thought to represent a prehistoric settlement.
The excavations uncovered a multi-phase settlement with evidence of occupation on the site from the Early Neolithic and the remains of settlements dating from the Late Neolithic\Early Bronze Age, Middle Bronze Age and Early-Middle Iron Age.
Pottery and lithics dating to the Early Neolithic were recovered residually from across the site but were also found in concentrations in four pits in Area B. A layer, which may have been a buried soil, pits and a post-built structure located at the south of Area B, contained pottery and lithics dating to the Late Neolithic/Early Bronze Age as well as a short length of Bronze wire. These were associated with a line of tree pits which may have formed an early boundary across the site. The boundaries of the Early Bronze Age settlement appear to have been respected during the Middle Bronze Age when the majority of activity took place on the site.
Three enclosures dated to this period. Enclosure 3 was formed by a palisade to the north and a ditched boundary to the west. It contained six post-built structures, measuring between 4m and 7.8m in diameter, as well as several areas of post holes that may have been related to fences, animal pens, hay-ricks and ancillary shelters and buildings. Enclosures 4 and 6 were bounded by ditches and contained three post-built structures, measuring between 4.70m and 8m in diameter, which contained pottery dating to the Middle Bronze Age. The latest settlement is represented by an Iron Age structure at the north-east of Area B. Charred grains and quern stones provide good evidence for cereal processing, whilst the animal bone assemblage is typical of the Middle Bronze Age with predominantly primary butchery waste of cattle being recovered. The recovery of hazelnuts and red deer antler indicate that a pastoral life-style was being supplemented by hunting and foraging.
Item Type:
Client Report
Uncontrolled Keywords:
Suffolk, suffolk, Newmarket, newmarket, Excavation, excavation, archaeological excavation, Bronze Age, bronze age, Middle Bronze Age, middle bronze age, Late Neolithic, late Neolithic, Neolithic, neolithic, Early Bronze Age, early bronze Age, Early Iron Age, early Iron Age, Iron Age, iron age, Pottery, pottery, pot, ceramic, vessel, sherd, Bronze Age pottery, bronze age pottery, Middle Bronze Age pottery, middle bronze age pottery, Late Neolithic pottery, late Neolithic pottery, Neolithic pottery, neolithic pottery, Early Bronze Age pottery, early bronze Age pottery, Early Iron Age pottery, early Iron Age pottery, Iron Age pottery, iron age pottery, structure, settlement, Bronze Age settlement, bronze age settlement, Bronze Age structure, bronze age structure, enclosure, enclosures, lithic implement, lithic implements, flint, flints, lithic, lithics, worked flint, worked flints, scraper, Neolithic flint, neolithic flint, Bronze Age flint, bronze age flint, droveway, drove way, drove, ditched enclosure, animal remains, animal bone, animal bones, bone, bones, red deer antler, antler, hayrick, hayricks, six-post structure, six post structure, worked stone, quern, querns, quern stones, saddle quern, Middle Bronze Age quern, middle bronze age quern, cattle, cow, cows, butchery evidence, hazelnut, hazelnuts, CPR, cpr, charred plant remains, Charred Plant Remains, ecofact, ecofacts, round house, roundhouse, 1812, report 1812, Report 1812, OAE report 1812
Subjects:
Geographical Areas > English Counties > Essex
Period > UK Periods > Bronze Age 2500 - 700 BC
Period > UK Periods > Bronze Age 2500 - 700 BC > Early Bronze Age 2500 - 1500 BC
Period > UK Periods > Neolithic 4000 - 2200 BC > Early Neolithic 4000 - 3000 BC
Period > UK Periods > Iron Age 800 BC - 43 AD
Period > UK Periods > Neolithic 4000 - 2200 BC > Late Neolithic 2700 - 2200 BC
Period > UK Periods > Bronze Age 2500 - 700 BC > Middle Bronze Age 1600 - 1,000 BC
Period > UK Periods > Neolithic 4000 - 2200 BC
Divisions:
Oxford Archaeology East
Depositing User:

Hamilton

Date Deposited:
07 May 2021 10:21
Last Modified:
07 May 2021 10:23
URI:
http://eprints.oxfordarchaeology.com/id/eprint/5994
Actions (login required)