Billington, Lawrence and Phillips, Tom (2019) Middle Bronze Age and Roman Activity at Cam Drive, Ely. [Client Report] (Unpublished)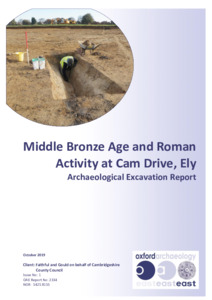 Preview
PDF




OAE Report 2334_ELYCDS14_HR.pdf


Available under License Creative Commons Attribution Share Alike.
Download (12MB) | Preview
Abstract
Between 23rd October and 5th December 2014 Oxford Archaeology East (OA East) carried out an archaeological excavation on land adjacent to Cam Drive, Ely (TL 542 820). The excavation was spread over two fields; an area measuring 1.86ha in size was opened in the western field and a further 0.88ha was investigated in the eastern field, giving a total area of 2.74ha. The excavation area sits within the southern part a larger envelope of land, covering 72ha, to the north-west of Ely, which has been subject to extensive evaluation fieldwork and several other area excavations.
Neolithic remains included two natural hollows and a pit, which contained Neolithic pottery, together with a background spread of residual finds in later features. Several sherds of pottery dating to the later Neolithic or Early Bronze Age were also found as residual finds in the fills of later features. The principal phase of activity at the site took place during the Middle Bronze Age, with the construction of a large sub-rectangular enclosure, bounded on three sides by ditches. This enclosure was associated with several possible post-built structures, while a number of Middle Bronze Age pits and a well/waterhole dating to this period were also uncovered. The Middle Bronze Age features were associated with fairly substantial assemblages of pottery and animal bone, indicating settlement activity within and around the enclosure.
Early Roman agricultural activity was represented by several field boundaries and an extensive system of cultivation strips. The field boundaries were orientated approximately east to west and some extended beyond the limits of excavation, suggesting they were part of a much wider field system. Within and around the area of the cultivation plots, two cremation burials of Early Roman date were recorded.
Evidence for the medieval and post-medieval periods consisted of a boundary ditch close to the northern limit of the site, along with numerous north to south aligned furrows.
The excavation has provided the first definite evidence for ditched Middle Bronze Age enclosures/field systems on the clays of the Isle of Ely and is of considerable regional significance. The extensive Early Roman cultivation plots are of a kind now well documented across the region and may have been associated with several areas of Early Roman settlement recorded during trial trenching and excavation to the north of the site.
Item Type:
Client Report
Uncontrolled Keywords:
Cambridgeshire, cambridgeshire, Ely, ely, Northwest Ely, Excavation, excavation, archaeological excavation, Neolithic, neolithic, Bronze Age, bronze age, Middle Bronze Age, middle bronze age, Roman, roman, Post-Medieval, post-medieval, Post Medieval, post medieval, pottery, Pottery, pot, ceramic, sherd, vessel, Neolithic pottery, neolithic pottery, Bronze Age pottery, bronze age pottery, Middle Bronze Age pottery, middle bronze age pottery, Roman pottery, roman pottery, Post-Medieval pottery, post-medieval pottery, Post Medieval pottery, post medieval pottery, enclosure, ditched enclosure, Bronze Age enclosure, bronze age enclosure, sub-rectangular enclosure, field system, Bronze Age field system, Middle Bronze Age field system, bronze age field system, middle bronze age field system, post built structure, post-built structure, Roman field system, roman field system, Cremation, cremation, cremation burial, cremated remains, cremated bones, human remains, animal remains, animal bone, animal bones, bone, bones, cultivation plots, ridge and furrow, furrow, furrows, 2334, report 2334, Report 2334, OAE report 2334
Subjects:
Geographical Areas > English Counties > Cambridgeshire
Period > UK Periods > Bronze Age 2500 - 700 BC
Period > UK Periods > Medieval 1066 - 1540 AD
Period > UK Periods > Bronze Age 2500 - 700 BC > Middle Bronze Age 1600 - 1,000 BC
Period > UK Periods > Neolithic 4000 - 2200 BC
Period > UK Periods > Post Medieval 1540 - 1901 AD
Period > UK Periods > Roman 43 - 410 AD
Divisions:
Oxford Archaeology East
Depositing User:

Hamilton

Date Deposited:
17 May 2021 12:05
Last Modified:
17 May 2021 12:05
URI:
http://eprints.oxfordarchaeology.com/id/eprint/6004
Actions (login required)