Thatcher, Chris (2019) Roman to medieval remains at Edison Bell Way, Huntingdon, Cambridgeshire. [Client Report] (Unpublished)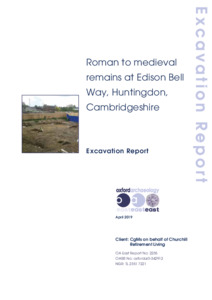 Preview
PDF




OAE_Report 2255_HUNEBW16_LR.pdf


Available under License Creative Commons Attribution Share Alike.
Download (3MB) | Preview
Abstract
Between June and July 2016 OA East conducted an archaeological excavation on land adjacent to Edison Bell Way, Huntingdon (TL 2351 7221). The works comprised an open area excavation that extended approximately 50m back from the Ermine Street frontage. Following on from the excavation, monitoring of service trenches took place in May 2017.
The earliest evidence for activity on site comprised a series of ditches aligned broadly parallel with the extant Ermine Street. These features contained a small quantity of Iron Age and Roman pottery.
Late Saxon activity took the form of a ditch running perpendicular to Ermine Street and a small number of discrete features in the south-western part of the site. During this time and into the early medieval period it would appear that the site was predominantly given over to refuse disposal.
As the medieval period progressed and the town, to the south, flourished and expanded there was an increase in activity at the site, peaking during the 13th and 14th centuries.
This was represented by several phases of ditching demarcating plot boundaries, between which were interspersed a large number of pits of varying sizes. A particularly large pond-like feature whose long axis was aligned parallel with Ermine Street was also recorded during the archaeological investigations immediately adjacent to the site in 2013. This feature and a number of the larger pits were very square-cut in profile, with further evidence for their maintenance also surviving in one pit in the form of wooden revetting. The environmental assemblages provided some tentative evidence for industrial processes, possibly relating to the dyeing of cloth or textiles.
During the post-medieval period it would appear that very little activity took place on the site with only a small number of pits and post holes pre-dating the activity associated with the 19th-century housing and associated services.
The activity on site was broadly comparable with that recorded immediately to the south-east during the Link Road excavations.
Item Type:
Client Report
Uncontrolled Keywords:
Cambridgeshire, cambridgeshire, Huntingdon, huntingdon, Excavation, excavation, archaeological excavation, Iron Age, iron age, Early Iron Age, early iron age, Roman, roman, Early Medieval, early medieval, Medieval, medieval, Post-Medieval, post-medieval, Post Medieval, post medieval, Pottery, pottery, pot, ceramic, sherd, vessel, Iron Age pottery, iron age pottery, Early Iron Age pottery, early iron age pottery, Roman pottery, roman pottery, Early Medieval pottery, early medieval pottery, Medieval pottery, medieval pottery, Post-Medieval pottery, post-medieval pottery, Post Medieval pottery, post medieval pottery, stylus, strapend, strap end, pit, pits, ditch, ditches, enclosure, ditched enclosure, medieval ditched enclosure, medieval fence, medieval fenceline, medieval fence line, medieval knife handle, worked bone knife handle, cess, cess pit, medieval cess pit, medieval oven, CBM, cbm, Ceramic Building Material, ceramic building material, pond, well, medieval well, structure, post-medieval structure, ecofact, ecofacts, revetting, wooden revetting, dye processing, waterlogged remains, 2255, report 2255, Report 2255, OAE report 2255
Subjects:
Geographical Areas > English Counties > Cambridgeshire
Period > UK Periods > Iron Age 800 BC - 43 AD > Early Iron Age 800 - 400 BC
Period > UK Periods > Early Medieval 410 - 1066 AD
Period > UK Periods > Iron Age 800 BC - 43 AD
Period > UK Periods > Medieval 1066 - 1540 AD
Period > UK Periods > Post Medieval 1540 - 1901 AD
Period > UK Periods > Roman 43 - 410 AD
Divisions:
Oxford Archaeology East
Depositing User:

Hamilton

Date Deposited:
18 May 2021 08:48
Last Modified:
18 May 2021 08:48
URI:
http://eprints.oxfordarchaeology.com/id/eprint/6006
Actions (login required)