Blackbourn, Kathryn (2017) Medieval Activity at Fishers Lane, Cherry Hinton. [Client Report] (Unpublished)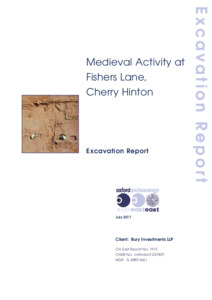 Preview
PDF




Report 1913_LR.pdf


Available under License Creative Commons Attribution Share Alike.
Download (3MB) | Preview
Abstract
n February and March 2016 Oxford Archaeology East undertook an excavation on land at 58 Fishers Lane, Cherry Hinton, Cambridge (TL 4889 5661). The excavation area measured 40m by 20m and revealed five phases of activity starting in the 12th century and continuing through to the modern day.
The earliest phase of activity on site has been dated to the 12th century and comprises a small number of features consisting of ditches and pits at the north-east of the site. These features contained very little in the way of datable evidence and have largely been assigned this date based on stratigraphic relationships.
Features dating to the late 12th to 14th century represents the largest phase of activity on site, also echoed at other sites in Cherry Hinton such as Colville Road, Church End and Neath Farm. This phase contained evidence for extensive quarry pitting for the recovery of chalk. Four north-west to south-east boundary ditches were also noted from this phase, and are potentially seen continuing south-east at Colville Road. A post-built structure was located in the north-west corner of the site with an associated cess pit. The pottery assemblage from this phase was the most represented across the site.
The pottery assemblage suggests a short period of decline in the 14th century with the use of the site altering. A north-east to south-west aligned plot lying perpendicular to the road is noted containing a chalk building platform, a beam slot structure and a chalk yard surface. These features contained no dating evidence but clearly overly the earlier quarry pits.
The 16th and 17th centuries saw a new phase of quarry pitting at the south of the site where in many cases post-medieval pottery was retrieved from the fills. A dog burial was also uncovered from this area of pitting. A north-west to south-east boundary ditch was uncovered to the north of these pits. A number of modern truncations were noted across the site largely comprising rubbish pits.
Item Type:
Client Report
Uncontrolled Keywords:
Cambridgeshire, cambridgeshire, Cambridge, cambridge, Excavation, excavation, archaeological excavation, Medieval, medieval, Post-Medieval, Post Medieval, post-medieval, post medieval, Pottery, pottery, pot, ceramic, sherd, vessel, Medieval pottery, medieval pottery, Post-Medieval pottery, Post Medieval pottery, post-medieval pottery, post medieval pottery, animal remains, animal bone, animal bones, bone, bones, medieval animal remains, post-medieval animal remains, window glass, vessel glass, post-medieval window glass, mace head, medieval mace head, mace, macehead, copper alloy mace head, quarry, quarry pit, extractive pit, chalk, chalk quarry, medieval extractive pit, medieval quarry pit, yard, yard surface, building platform, structure, post-built structure, post built structure, dog, dog burial, post-medieval dog burial, post-medieval quarry pit, post-medieval extractive pit, medieval building platform, medieval yard, medieval yard surface, plot, plot boundary, domestic activity, cesspit, cess pit, 1913, report 1913, Report 1913, OAE report 1913
Subjects:
Geographical Areas > English Counties > Cambridgeshire
Period > UK Periods > Medieval 1066 - 1540 AD
Period > UK Periods > Modern 1901 - present
Period > UK Periods > Post Medieval 1540 - 1901 AD
Divisions:
Oxford Archaeology East
Depositing User:

Hamilton

Date Deposited:
19 May 2021 08:02
Last Modified:
19 May 2021 08:02
URI:
http://eprints.oxfordarchaeology.com/id/eprint/6009
Actions (login required)