Thatcher, Chris and Clarke, Graeme (2019) Medieval and Post-Medieval Activity at Sun Street (64-68 Newmarket Road), Cambridge. [Client Report] (Unpublished)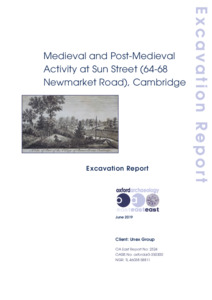 Preview
PDF




OAE_Report 2324_CAMSUN16_LR.pdf


Available under License Creative Commons Attribution Share Alike.
Download (9MB) | Preview
Abstract
During November 2016 Oxford Archaeology East carried out an archaeological excavation at Sun Street (64-68 Newmarket Road), Cambridge within an area proposed for redevelopment as mixed residential and commercial space. Although modern disturbance (including a petrol tank) and truncation was evident in places, the 160m2 excavation uncovered sporadic evidence for medieval back plot activity spanning the 13th-16th centuries.
The activity was characterised by two phases of pitting activity (containing small quantities of finds), which were possibly excavated to dispose of midden waste, along with a possible cess pit or latrine. Later remains comprised structural elements of 19th century buildings and a well. These buildings probably represent part of the row of cottages documented to front onto Sun Street to the north in 1813, which were later listed as two neighbouring public house in the Cambridgeshire Historic Environment Record. The upper part of the well was in-filled with pottery and other domestic rubbish, including a large quantity of collegiate ceramics similar to that found at other sites in this part of Cambridge.
Evidence for medieval occupation of the site, however slight, is a significant discovery for the locality. The group of pits raises the possibility that by the 13th century the lay settlement at Barnwell extended westwards, beyond the junction of Newmarket and East Road, to incorporate part of the triangle of land later known as The Kite. This mode of occupation appeared to have continued until the end of the medieval period. The lack of any post-medieval remains within the excavation area should be viewed in light of significant later truncation of the natural land surface revealed by the wider test pit investigations. Resulting from gravel quarrying and more recent construction, it reflects the wider narrative of post-medieval decline followed by rapid growth into a well populated and vibrant suburb of the city.
Item Type:
Client Report
Uncontrolled Keywords:
Cambridgeshire, cambridgeshire, Cambridge, cambridge, Excavation, excavation, archaeological excavation, Sun Street, sun street, Medieval, medieval, Post-Medieval, post-medieval, Post Medieval, post medieval, Modern, modern, Building, building, structure, Structure, Pottery, pottery, pot, ceramic, sherd, vessel, Medieval pottery, medieval pottery, Post-Medieval pottery, post-medieval pottery, Post Medieval pottery, post medieval pottery, Modern pottery, modern pottery, Red ware, red ware, Grimston ware, grimston ware, Bone China, Bone china, bone china, Collegiate ware, collegiate ware, college pottery, collegiate pottery, Trinity College, trinity college, post-medieval structure, modern structure, building foundations, well, post-medieval well, midden, midden waste, cesspit, medieval building, post-medieval building, Barnwell, barnwell, latrine, The Kite, the kite, domestic activity,pit, pits, pitting activity, lay settlement, animal remains, animal bone, animal bones, bone, bones, worked bone, worked bone handle, knife handle, medieval knife handle, medieval worked bone knife handle, ecofact, ecofacts, glass, vessel glass, bottle, glass bottle, post-medieval glass bottle, wine bottle, pharmaceutical bottle, 2324, report 2324, Report 2325, OAE report 2324
Subjects:
Geographical Areas > English Counties > Cambridgeshire
Period > UK Periods > Medieval 1066 - 1540 AD
Period > UK Periods > Modern 1901 - present
Period > UK Periods > Post Medieval 1540 - 1901 AD
Divisions:
Oxford Archaeology East
Depositing User:

Hamilton

Date Deposited:
24 May 2021 12:45
Last Modified:
24 May 2021 12:45
URI:
http://eprints.oxfordarchaeology.com/id/eprint/6015
Actions (login required)