Lambert, Paddy (2020) Late Iron Age and Early Roman Remains at Land off Rockmill End and Meadow Road, Willingham, Cambridgeshire. [Client Report] (Unpublished)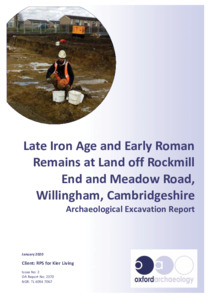 Preview
PDF




OAE_Report_2370v2_WILROK17_LR.pdf


Available under License Creative Commons Attribution Share Alike.
Download (4MB) | Preview
Abstract
Between 11th January and 24th March 2018, Oxford Archaeology East (OA East) conducted an archaeological excavation on land north-east of Rockmill End, Willingham, Cambridgeshire (TL 4094 7067). The site was 0.5ha in size and was excavated in two phases due to poor ground conditions.
The excavation uncovered two distinct consecutive phases of settlement layout, interpreted as Late Iron Age (characterised by a sinuous boundary ditch and a roundhouse) and Early Roman (represented by straight-sided enclosures and a track superimposed over the earlier layout). Fragments of structural fired clay fragments recovered from ditch fills associated with the earliest phase may suggest the presence of a pottery kiln in the near vicinity. A small, c.4m diameter, ring-ditch revealed in the same part of the site is similar to other previously excavated examples of small-scale circular features interpreted as hayricks.
Although the ceramic assemblage is fairly abraded, indicating some reworking possibly through manuring before final deposition, it demonstrates continued occupation of the site either side of the Roman Conquest. Both the roundhouse gully and associated pits, alongside early elements of the sinuous settlement boundary ditch, produced a number of Late Iron Age sherds, and are suggested to be pre-Conquest in origin. At some point, presumably in the Early Roman period, the more organic layout of the Late Iron Age settlement was supplanted by a rectilinear arrangement of enclosures associated with a trackway. Finds of both slag and burnt stone from one of the enclosure ditches, combined with the recovery of vitrified charcoal and hammerscale from a pit within its circuit, provide a tentative link for this enclosure with ironworking. Analysis of the associated pottery suggests that this post-Conquest activity may have been short-lived, perhaps only continuing into the early part of the 2nd century AD, at which point the site was abandoned. This evidence for a possible shift in local settlement pattern to new foci at this time is perhaps supported by concentrations of mostly 2nd century and later pottery recorded as surface scatters at three nearby sites: Earith Road, Queenholme/The Sponge and Meadow Road/The Stacks.
Considering its limited scale and the great practical difficulties which beset this excavation, caused by the wet weather of early 2018, both the stratigraphic and material evidence recovered from this site has nonetheless provided an important insight into the evolving character of fen-edge occupation in the environs of Willingham either side of the Roman Conquest.
Item Type:
Client Report
Uncontrolled Keywords:
Cambridgeshire, cambridgeshire, Willingham, willingham, Excavation, excavation, archaeological excavation, Iron Age, iron age, Late Iron Age, late iron age, Roman, roman, Early Roman, early roman, LIA, lia, ERB, erb, settlement, Iron Age settlement, iron age settlement, Late Iron Age settlement, late iron age settlement, Roman settlement, roman settlement, Early Roman settlement, early roman settlement, Pottery, pottery, pot, ceramic, sherd, vessel, Iron Age pottery, iron age pottery, Late Iron Age pottery, late iron age pottery, Roman pottery, roman pottery, Early Roman pottery, early roman pottery, hayrick, hayricks, roundhouse, round house, Iron Age roundhouse, iron age roundhouse, enclosures, enclosures, Roman enclosures, roman enclosures, boundary, boundaries, boundary ditch, Iron Age boundary ditch, iron age boundary ditch, fen-edge occupation, fen, fenland, trackway, track, track way, Roman trackway, roman trackway, rectilinear enclosures, burnt stone, slag, MWD, mwd, metalworking debris, hammerscale, spindlewhorl, ceramic spindleworl, spindle whorl, Late Iron Age ceramic spindlewhorl, late iron age ceramic spindlewhorl, quern, quern fragment, millstone grit, lava quern, fired clay, furrow, furrows, ridge and furrow, Post-Medieval, post-medieval, Post Medieval, post medieval, medieval, Medieval, medieval ridge and furrow, 2370, report 2370, Report 2370, OAE report 2370
Subjects:
Geographical Areas > English Counties > Cambridgeshire
Period > UK Periods > Iron Age 800 BC - 43 AD
Period > UK Periods > Iron Age 800 BC - 43 AD > Late Iron Age 100 BC - 43 AD
Period > UK Periods > Medieval 1066 - 1540 AD
Period > UK Periods > Post Medieval 1540 - 1901 AD
Period > UK Periods > Roman 43 - 410 AD
Divisions:
Oxford Archaeology East
Depositing User:

Hamilton

Date Deposited:
25 May 2021 06:55
Last Modified:
25 May 2021 06:55
URI:
http://eprints.oxfordarchaeology.com/id/eprint/6016
Actions (login required)