Lewis, Timothy (2020) Millbrook Power, Bedfordshire. [Client Report] (Unpublished)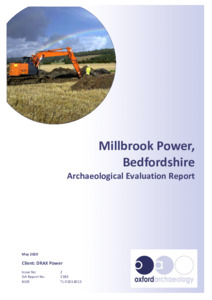 Preview
PDF




OAE_Report_2383_v2_XBDMIP19_LR.pdf


Available under License Creative Commons Attribution Share Alike.
Download (7MB) | Preview
Abstract
Between 10th September and 2nd October 2019 Oxford Archaeology East (OAE) conducted an evaluation to the north of the village of Millbrook, Bedfordshire, on behalf of Drax Power Ltd. A total of 40 trenches were opened by machine, as part of a development consent order (DCO) for the Millbrook Power Scheme. The proposed development was for an electricity sub-station and a gas pipeline.
The evaluation revealed the continuation of a known Romano-British settlement in the north-west of the development area and scattered archaeological features of indeterminate date along the route of a proposed pipeline to the east and south-east.
The Romano-British activity was concentrated within the area of a proposed electricity sub-station, where Trenches 1-9 were located. The majority of features, which consisted of ditches, a pit and a posthole, were encountered in Trench 9. This part of the site was directly adjacent to a known farmstead, previously excavated by Albion Archaeology, which originated in the Middle Iron Age and continued in use until the Late Roman period. Romano-British features from the evaluation produced pottery dating to the 1st-2nd centuries AD (136 sherds, 682g) and animal bone.
A small number of features (seven in total) were found in the remaining 31 trenches, which were spread along the route of the proposed pipeline. All the features were undated and the only dating evidence from the pipeline trenches came from a layer in Trench 40, which contained post-medieval pottery, a single iron nail and two fragments of animal bone.
Item Type:
Client Report
Uncontrolled Keywords:
Bedfordshire, bedfordshire, Millbrook, millbrook, Evaluation, evaluation, archaeological evaluation, Roman, roman, Romano-British, romano-british, Pottery, pottery, pot, ceramic, sherd, vessel, Roman pottery, roman pottery, farmstead, Roman farmstead, roman farmstead, Romano-British farmstead, romano-british farmstead, animal bone, animal bones, animal remains, bone, bones, Post-Medieval, Post Medieval, post-medieval, post medieval, layer, post-medieval layer, pipeline, pipe line, substation, sub-station, pit, pits, ditch, ditches, Roman pit, Roman ditch, 2383, report 2383, Report 2383, OAE report 2383
Subjects:
Geographical Areas > English Counties > Bedfordshire
Period > UK Periods > Post Medieval 1540 - 1901 AD
Period > UK Periods > Roman 43 - 410 AD
Divisions:
Oxford Archaeology East
Depositing User:

Hamilton

Date Deposited:
01 Jun 2021 06:57
Last Modified:
01 Jun 2021 06:57
URI:
http://eprints.oxfordarchaeology.com/id/eprint/6018
Actions (login required)