Gilmour, Nick (2019) 24 Taylor's Lane Swavesey, Cambridgeshire: Medieval earthworks and remains adjacent to Swavesey Castle. [Client Report] (Unpublished)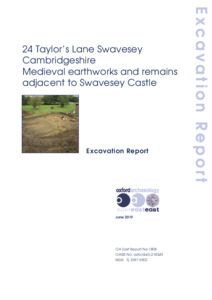 Preview
PDF




OAE_Report 1808_SWATAY14_LR.pdf


Available under License Creative Commons Attribution Share Alike.
Download (8MB) | Preview
Abstract
Between 1st-9th September 2014, Oxford Archaeology East carried out an archaeological excavation at 24 Taylor's Lane, Swavesey (TL 3597 6902). This is within the scheduled area of earthworks associated with Swavesey Castle (National Heritage List for England Entry No. 1006913).
An archaeological evaluation of the site was carried out in conjunction with topographical survey and evaluation trenching, between 31st July and 8th August 2014, prior to the excavation, to establish the presence/absence of archaeological features. The topographic survey demonstrated the presence of a bank or possible headland of presumed medieval date, related to a complex of earthworks known to the north of the site, and two other banks of medieval date. The trenching confirmed the survival, throughout the development area, of medieval occupation layers. Undisturbed 13th-14th century bank deposits were present just below the top-soil that sealed earlier features.
The excavation revealed a ditch of 12th century date, which may be part of the bailey ditch of Swavesey Castle. This was a substantial feature over 1.60m deep and 2.35m wide. The date of this ditch is significant as it provided evidence for the date of the Castle itself. Consequently a programme of archaeological monitoring was also undertaken on neighbouring land to the east of 24 Taylor's Lane during the construction of a soakaway trench in June 2016 and the laying of a fence and tree planting in April 2017. The soakaway trench revealed a further 0.6m deep ditch flanked to the south by possible bank material.
Several features, largely associated with gravel quarrying dating from the 12th to 14th centuries were also revealed by the excavation. During the 15th to 16th century a ditched and banked enclosure was constructed on the site, adjacent to the disused probable castle bailey ditch. The banks of this enclosure survived as earthworks and it appears that it was related to Swavesey Priory (located to the north of this site).
The site appears to have been largely abandoned during the 16th to 18th centuries, although agricultural activity may have continued. During the 19th century a road was constructed, partly over the line of the large 12th century ditch.
Item Type:
Client Report
Uncontrolled Keywords:
Cambridgeshire, cambridgeshire, Swavesey, swavesey, Excavation, excavation, archaeological excavation, Evaluation, evaluation, archaeological evaluation, topographical survey, survey, Watching Brief, watching brief, monitoring work, Swavesey Castle, swavesey castle, earthwork, earthworks, Medieval, medieval, medieval earthwork, medieval earthworks, bailey, Bailey, Swavesey Castle bailey, bailey ditch, Swavesey Castle bailey ditch, Swavesey Priory, swavesey priory, extractive pit, quarry, quarry pit, quarrying, medieval extractive pit, medieval quarry pit, enclosure, ditched and banked enclosure, post-medieval road, road, post-medieval agriculture, agriculture, farming, ring brooch, ringbrooch, ring-brooch, buckle, nail, neolithic, Neolithic, neolithic struck flint, worked flint, flints, flint, lithic lithics, lithic implement, Pottery, pottery, pot, ceramic, sherd, vessel, Medieval, medieval, Post-Medieval, post-medieval, Post Medieval, post medieval, Medieval pottery, medieval pottery, Post-Medieval pottery, post-medieval pottery, Post Medieval pottery, post medieval pottery, whetstone, floor tile, roof tile, tile, Tile, tiles, CBM, cbm, Ceramic Building Material, ceramic building material, oven, animal remains, animal bones, animal bone, bone, bones, shell, marine mollusca, ecofact, ecofacts, 1808, report 1808, Report 1808, OAE report 1808
Subjects:
Geographical Areas > English Counties > Cambridgeshire
Period > UK Periods > Medieval 1066 - 1540 AD
Period > UK Periods > Post Medieval 1540 - 1901 AD
Divisions:
Oxford Archaeology East
Depositing User:

Hamilton

Date Deposited:
04 Jun 2021 09:25
Last Modified:
04 Jun 2021 09:25
URI:
http://eprints.oxfordarchaeology.com/id/eprint/6023
Actions (login required)