Dunn, Paul (2021) Oak Lane, Newton-with-Scales, Lancashire Archaeological Evaluation Report. [Client Report] (Unpublished)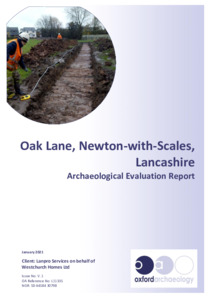 Preview
PDF




L11335_Report_Combined.pdf


Download (7MB) | Preview
Abstract
Oxford Archaeology (OA) North was commissioned by Lanpro Services on
behalf of Westchurch Homes Ltd to undertake a trial trench evaluation and
record ridge and furrow present on the site of a proposed residential
development north of Oak Lane, Newton-with-Scales, Lancashire (NGR: SD
44584 30798).
The work was undertaken as condition 18 of Planning Permission (planning
ref. 20/0315). During consultation for the application, the archaeological
advisors to Fylde Council, Lancashire Archaeological Advisory Service (LAAS;
now Lancashire County Archaeological Service (LCAS)), recommended an
initial exploratory phase of archaeological works. Further consultation with
the Planning Officer (Archaeology) for Lancashire County Council (LCC) agreed
with the early advice; as such, a Written Scheme of Investigation (WSI) was
produced by Lanpro Services detailing the Local Authority's requirements for
work necessary to discharge the planning condition. OA North were
subsequently commissioned to undertake the archaeological fieldwork, which
was undertaken between 2nd and 4th December 2020.
All seven of the proposed trenches were excavated, however, only two of
those trenches contained archaeological remains, Trenches 1 and 4. The ditch
encountered in Trench 4 was the only archaeological feature which appeared
to correspond to the geophysical survey interpretation; this feature appeared
to cut the subsoil in Trench 4, suggesting that it likely related to a field
boundary. The remains encountered in Trench 1 did not correspond with the
geophysical interpretation, neither did they contain dating evidence to aid in
their interpretation. The large magnetic response depicted in the southeastern
part of the development was identified in Trench 3 as modern leveling
and backfilling of a pit or pond. There was no evidence of the other
geophysical anomalies or the 'croft' identified on historic mapping.
The recording of the ridge and furrow depicted on LiDAR was successfully
completed. The ridges, approximately 6m wide and surviving to a height of
0.2m, were recorded via dGPS profile.
Actions (login required)