Rowland, Stephen (2018) Getrag Carpark, JLR Halewood, Merseyside Archaeological Watching Brief Report. [Client Report] (Unpublished)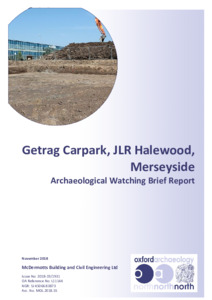 Preview
PDF




L11144_Rep_combined.pdf


Download (15MB) | Preview
Abstract
Oxford Archaeology (OA) North was commissioned by McDermotts Building and Civil
Engineering Ltd, on behalf of Jaguar Land Rover, to undertake an archaeological watching
brief during groundworks on the site of Getrag carpark, Jaguar Land Rover Halewood,
Merseyside. The work was undertaken as a condition of planning permission (planning ref
17/00006/FUL). This report outlines how OA implemented the specified requirements.
Prior to its development in 1961-62, the area of the site was largely occupied by the moated
manor of Old Hutt, its ancillary buildings, associated features, and surrounding agricultural
land. This landscape had changed little from the first available mapping to the time of its
destruction during the construction of the Ford plant.
Old Hutt was excavated in 1960, but the excavation was limited in its scope and was largely
an exercise in following the walls of the former manor house. As a result, the conclusions
of the excavation were limited. However, the excavators did identify the basic chronology
of the manor house and the kitchen complex, in addition to expanding understanding of
the size and layout of the manor house complex.
The watching brief was undertaken in June and July 2018 and included the monitoring of
topsoil stripping, and ground reduction for an access road and for an attenuation tank. This
identified that the site had been landscaped using redeposited clay that contained brick,
plastic and reinforced steel bar and was overlain by imported topsoil, probably during the
construction of the car plants post - 1960. The deepest excavation, that of the attenuation
tank, was located partially over the north-east corner of the moat; it reached a depth of
1.8m below ground level without exposing either natural deposits or archaeological
remains. The same thickness of made ground was observed in the southern and eastern
edges of excavation, which were likely to lie beyond the limits of the moat. This would
suggest that the made ground deposits not only extended across the development site, but
were also likely to have been deposited to a thickness that would seal any archaeological
remains of the manor below the depth of impact associated with the works within the
current scheme of development.
Actions (login required)