Dunn, Paul (2019) NSG European Technical Centre, Lathom, West Lancashire Archaeological Watching Brief Report. [Client Report] (Unpublished)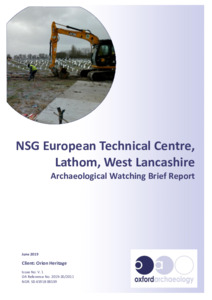 Preview
PDF




L11203_Report_Combined.pdf


Download (13MB) | Preview
Abstract
Oxford Archaeology (OA) North were commissioned by Orion Heritage (the
client) to undertake a watching brief during the construction of a solar farm
on land at, and to the south of, the NSG European Technical Centre, Lathom,
West Lancashire (NGR. SD 45918 08539).
The work was undertaken as a condition of Planning Permission (planning ref.
2018/0409/FUL). The client was commissioned by Lightsource Renewable
Holdings Ltd to produce a desk-based assessment (DBA; Orion Heritage 2018),
and a geophysical survey was also undertaken by Magnitude (2018). These
investigations revealed preserved earthworks likely relating to part of a World
War 1 Remount Station. Following the production of the DBA and completion
of the geophysical survey, the client liaised with the Lancashire Archaeological
Advisory Service (LAAS) to determine the best manner in which to implement
the development proposals. A range of special measures and mitigation were
suggested, including the use of cable trays throughout the southern field other
than around the outside of it, re-routing of the access road along the western
boundary, structures placed outside the area of significant earthworks in the
southern field, swales placed around the perimeter of the site and the High
Voltage (HV) Cable placed along the northern edge of the southern field. There
was also a requirement to use low impact machinery on the site, which
resulted in very minimal impact to the earthwork remains of the remount
station. These mitigation measures are detailed in Written Schemes of
Investigation produced by Orion Heritage and OA North.
The fieldwork initially involved the monitoring of five geotechnical test pits,
undertaken in November 2018, with the monitoring of cable trenches, an
access road, transformer bases and swales, being undertaken during
construction of the solar farm in March, April and May 2019.
Little of archaeological interest was identified during the watching brief, a
levelling layer of compact sand and clinker or ash was encountered in several
sections of the Earth Cable trench, which likely related to a levelling layer for
the remount station. A small assemblage of glass and ceramic finds was
recovered from the topsoil with the southern field, all being dated to the
nineteenth and twentieth centuries.
Actions (login required)