Cox, Nicholas (2021) Late Bronze Age Remains at Stutton Close, Stutton, Suffolk. [Client Report] (Unpublished)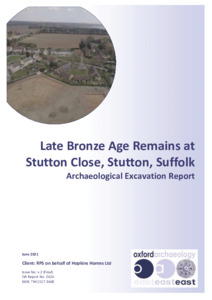 Preview
PDF




OAE report 2424_Stutton_LR.pdf


Available under License Creative Commons Attribution Share Alike.
Download (7MB) | Preview
Abstract
Between 15th April – 4th May 2020 Oxford Archaeology East carried out an excavation on land to the west of Stutton Close, Stutton, Suffolk, ahead of a proposed residential development. A total of 2,979m2 was excavated in two excavation areas within a former orchard.
Exposed within the excavation areas was a single Middle Bronze Age pit (Area B) and a discrete area of Late Bronze Age settlement (Area A), including at least one post-built structure consisting of six post holes and a cluster of 20 pits. The pits produced a varied assemblage of occupation debris, including a large quantity of Late Bronze Age pottery, five fragmentary fired clay loom weights, two spindle whorls, a rare fragment of flint quern and a fragment of sandstone saddle quern, with the majority deriving from four pits close to the structure (Pit Group 107). One of the pits close to the structure was radiocarbon dated to 917-814 cal. BC.
A regionally significant assemblage of Late Bronze Age briquetage (115 fragments, 1791g) was recovered from six pits, with diagnostic pieces including bar fragments, pedestal fragments and pedestal terminals. The vast majority of the briquetage came from a single pit (EV43) in the centre of Area A, which was radiocarbon dated to 983-830 cal. BC. The same pit contained the largest assemblage of Late Bronze Age pottery from a single feature.
A post-medieval boundary ditch was also revealed along the western and southern edges of the investigation area.
Item Type:
Client Report
Uncontrolled Keywords:
Suffolk, suffolk, Stutton, stutton, Excavation, excavation, archaeological excavation, Bronze Age, bronze age, Middle Bronze Age, middle bronze age, Late bronze Age, late bronze age, Post-Medieval, post-medieval, Post Medieval, post medieval, Pottery, pottery, pot, ceramic, sherd, vessel, Bronze Age pottery, bronze age pottery, Middle Bronze Age pottery, middle bronze age pottery, Late bronze Age pottery, late bronze age pottery, briquetage, Bronze Age briquetage, bronze age briquetage, loom weight, loomweight, weight, spindlewhorl, spindle whorl, ecofact, ecofacts, CPR, cpr, charred plant remains, C14, c14, carbon dating, quern, saddle quern, fired clay, pedestal, pit, pits, pit group, 2424, report 2424, Report 2424, OAE report 2424
Subjects:
Geographical Areas > English Counties > Suffolk
Period > UK Periods > Bronze Age 2500 - 700 BC
Period > UK Periods > Bronze Age 2500 - 700 BC > Late Bronze Age 1000 - 700 BC
Period > UK Periods > Bronze Age 2500 - 700 BC > Middle Bronze Age 1600 - 1,000 BC
Period > UK Periods > Post Medieval 1540 - 1901 AD
Divisions:
Oxford Archaeology East
Depositing User:

Hamilton

Date Deposited:
15 Jun 2021 07:08
Last Modified:
15 Jun 2021 07:08
URI:
http://eprints.oxfordarchaeology.com/id/eprint/6040
Actions (login required)