Blackbourn, Kathryn (2019) Late Saxon to Early Medieval Salterns at Lynnsport 1: Land South of Aconite Road, King's Lynn, Norfolk: PXA and UPD. [Client Report] (Unpublished)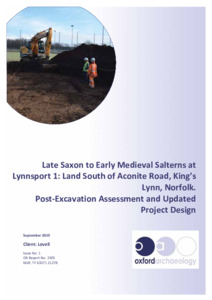 Preview
PDF




OAE_Report 2305_XNFARL18_LR.pdf


Available under License Creative Commons Attribution Share Alike.
Download (5MB) | Preview
Abstract
From the 14th January to the 1st of February 2019 Oxford Archaeology East undertook an archaeological excavation at land south of Aconite Road (Lynnsport 1), King's Lynn, Norfolk. This project took place within a wider context of research into the salt-making industry of Gaywood, King's Lynn, which is being undertaken by OA East through a series of investigations for the Lynnsport development. This phase of works comprised four excavation areas across three saltern mounds (Salterns 10-12) which had previously been identified during evaluation work at the site.
Buried soils which probably represent land-surfaces upon which the saltern mounds formed within the saltmarsh were identified beneath Salterns 11 and 12, with Ipswich ware pottery (date range of late 8th to 9th century) recovered beneath Saltern 11. Each saltern mound consisted of layers of waste material resulting from brine filtration and boiling activity related to Mid/Late Saxon to early medieval salt production. A number of clay-lined tanks were also revealed directly related to the salt-making process. These features and deposits provided a few sherds of pottery, that in conjunction with radiocarbon dating, suggests continued salt production from the 9th/10th to 12th centuries. A layer of clay was observed to interrupt the deposit sequence within Saltern 12 to possibly indicate a marine or fluvial flood event.
Importantly, a rare survival of incinerated peat from hearth waste deposits within Saltern 12 attests to this much postulated but often invisible fuel source within the archaeological record of this industry. The environmental samples also provided evidence for the wider salt-marsh environment within which the industry was focussed. The upper deposit sequence in each of the mounds also contained iron smithing slag to indicate a secondary use for these mounds during the early medieval period. Together, these salterns add to a growing corpus of Mid/Late Saxon and medieval saltern sites within the historical North Marsh of Gaywood, King's Lynn.
Item Type:
Client Report
Uncontrolled Keywords:
Norfolk, norfolk, Kings Lynn, kings lynn, King's Lynn, king's lynn, Excavation, excavation, archaeological excavation, Early Medieval, early medieval, Medieval, medieval, Pottery, pottery, pot ceramic, sherd, vessel, Early Medieval pottery, early medieval pottery, Medieval pottery, medieval pottery, Saltern, saltern, Early Medieval salt production, early medieval salt production, Medieval salt production, medieval salt production, salt production, brine filtration, filtration, filtration tank, tank, tanks, filtration tanks, C14, c14, radiocarbon date, radiocarbon dating, peat, peat deposit, preserved peat, mound, saltern mound, Gaywood, gaywood, PXA, pxa, Post-Excavation Assessment, Post-excavation Assessment, post-excavation assessment, UPD, upd, Update Project Design, updated project design, 2305, report 2305, Report 2305 OAE report 2305
Subjects:
Geographical Areas > English Counties > Norfolk
Period > UK Periods > Early Medieval 410 - 1066 AD
Period > UK Periods > Medieval 1066 - 1540 AD
Divisions:
Oxford Archaeology East
Depositing User:

Hamilton

Date Deposited:
17 Jun 2021 13:17
Last Modified:
17 Jun 2021 13:18
URI:
http://eprints.oxfordarchaeology.com/id/eprint/6044
Actions (login required)