Browne, David (2021) Land off 2 Church Lane, Ellington, Cambridgeshire. [Client Report] (Unpublished)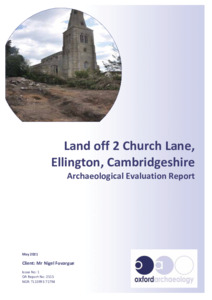 Preview
PDF




OAE_Report2515_ELLCHU20_LR.pdf


Available under License Creative Commons Attribution Share Alike.
Download (2MB) | Preview
Abstract
Between the 12th and 14th of April 2021 Oxford Archaeology East conducted a trial trench evaluation on land off 2 Church Lane, Ellington (TL15993 71794). This followed the removal of a Nissen hut that was subject to a building recording exercise, reported on separately (Fairbairn and Abrehart 2020).
The two-trench evaluation identified evidence of medieval structures represented by post holes and beam slots. Later activity on the site included two animal burials (a dog burial and a pit containing the skeletal remains of a pig and a chicken that were possibly diseased) that appear to date to the 19th to early 20th century. Small quantities of pottery spanning the mid 9th to the end of the 19th century, ceramic building material, metal objects, glass and animal bone were recovered during the evaluation, while environmental samples show some potential for the preservation of plant remains including cereals, weeds and bramble and/or elder seeds.
The low levels of finds and other remains suggest that this area was not a focus of activity and the structural remains may represent ancillary buildings located to the rear of domestic properties fronting the High Street to the north or (more likely) Church Lane to the south.
Item Type:
Client Report
Uncontrolled Keywords:
Cambridgeshire, cambridgeshire, Ellington, ellington, Evaluation, evaluation, archaeological evaluation, Medieval, medieval, Post-Medieval, post-medieval, Post Medieval, post medieval, Pottery, pottery, pot, ceramic, sherd, vessel, Medieval pottery, medieval pottery, Post-Medieval pottery, post-medieval pottery, Post Medieval pottery, post medieval pottery, structural, structure, structural remains, medieval structure, beam slot, medieval beam slots, post hole, posthole, pit, animal burial, post-medieval animal burial, animal bone, animal bones, animal remains, bone, bones, ancillary building, ecofact, domestic ancillary building, 2515, report 2515, Report 2515, OAE report 2515, CBM, cbm, Ceramic Building Material, ceramic building material, post-medieval brick
Subjects:
Geographical Areas > English Counties > Cambridgeshire
Period > UK Periods > Medieval 1066 - 1540 AD
Period > UK Periods > Post Medieval 1540 - 1901 AD
Divisions:
Oxford Archaeology East
Depositing User:

Hamilton

Date Deposited:
18 Jun 2021 09:18
Last Modified:
18 Jun 2021 09:18
URI:
http://eprints.oxfordarchaeology.com/id/eprint/6048
Actions (login required)