Collie, Tom and Brudenell, Matthew and Phillips, Tom (2021) Progress Power Project, Eye Airfield, Eye, Suffolk. [Client Report] (Unpublished)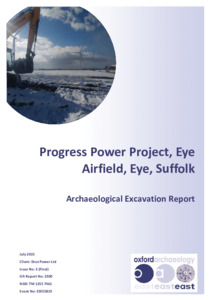 Preview
PDF




OAE_Report_2300_XSFEAI_FINAL_LR-1.pdf


Available under License Creative Commons Attribution Share Alike.
Download (11MB) | Preview
Abstract
Between September 2017 and March 2018 Oxford Archaeology East (OA East) carried out two separate phases of excavation at Eye Airfield Industrial Estate, near Yaxley in Suffolk. The location of each excavation area was based on the results of previous stages of evaluation (conducted by OA East in June 2017). Areas 2A and 2B (totalling 0.451ha) were located immediately due north of Castleton Way and immediately due east of the A140 roadway. Excavation was undertaken between 25th September – 22nd October 2017. Following this, Area 3 (totalling 1.53ha) was stripped and excavated between 6th November 2017 and 20th March 2018, located in the north of the development area and immediately to the east of the old Eye airfield runway.
The excavations revealed remains spanning the Bronze Age through to the post-medieval period. Phase 1 represented Bronze Age activity, which included the remnants of a burnt flint mound, encountered in the south-east corner of Area 3. The principal features associated with this burnt mound included a large pond and a series of pits formed within the silting horizons of this pond. In addition, a spread of burnt flint was identified, first observed in the topsoil, but also recovered as residual material in Romano-British features.
The pond itself had evidently infilled slowly, the water level gradually rising, with pits located further inside and down the bank of the pond itself when the water table had been lower. Pollen evidence showed that the pond had been extant when the surrounding land had been open grassland, and not secluded woodland.
Phase 2 represented initial occupation (Early Romano-British) and was restricted to the western half of Area 3. Eight roundhouse eaves drip gullies were uncovered in association with an east to west orientated trackway. There was an increase in activity during Phase 3 (Early – Mid Romano-British). In Area 2B, three identifiable enclosure systems were discovered alongside a north to south running track/drove way. In Area 3, the roundhouses were replaced by enclosures and track/drove ways alongside structures and numerous pits and post holes. Twelve identifiable enclosures or sub enclosures were identified, which formed a rectilinear pattern of fields focussed on the east to west track/drove way. At least three sub-square or subrectangular post-built structures were also present. Additionally, two discrete spreads of domestic waste, preserved in slight hollows and possibly derived originally from surface middens, were located towards the middle of the area. The ceramic evidence suggests a peak during the Mid Romano-British period, after which the level of activity appears to decline somewhat after the later 2nd century AD, continuing to a lesser degree into the 3rd century AD.
Areas 2A and 3 both contained rectilinear enclosures dating to Phase 4 (Mid – Late Romano-British), although compared to the previous phase there was a decrease in activity. In Area 2A, a series of enclosures were formed for the first time. In Area 3, the field system was radically modified, truncating the smaller
enclosures and structures from Phase 3.
Phase 5 represented field systems and small-scale pitting activity dating to the medieval and post-medieval periods. Area 2B contained a very large north to south orientated ditch and a smaller east to west ditch. In Area 3, the same north to south aligned ditch systems were apparent, with one very large ditch effectively separating Area 3 into two unequal parts. Instances of early and high medieval pottery in most of the contexts containing post-Roman ceramics may suggest that the wares were in use at this site in the same phase of activity, perhaps indicating that activity was most intensive in the 12th-13th centuries.
Item Type:
Client Report
Uncontrolled Keywords:
Suffolk, suffolk, Yaxley, yaxley, Eye Airfield, eye airfield, Excavation, excavation, archaeological excavation, full report, 2300, report 2300, Report 2300, OAE report 2300, Bronze Age, bronze age, Iron Age, iron age, Roman, roman, Medieval, medieval, Pottery, pottery, pot, ceramic, sherd, vessel, Iron Age pottery, iron age pottery, Roman pottery, roman pottery, Medieval pottery, medieval pottery, Early Medieval pottery, early medieval pottery, Bronze Age pond, bronze age pond, Roman enclosure, Roman field system, roman enclosure, roman field system, brooch, animal remains, animal bones, animal bone, bone, bones, snails, ecofacts, ecofact, C14, C14 dating, radiocarbon dating, trackway, Roman trackway, Iron Age trackway, roman trackway, iron age trackway, lithic implement, flint, flints, worked flint, lithic, lithics, Bronze Age worked flint, bronze age worked flint, Early Bronze Age worked flint, early bronze age worked flint, late neolithic worked flint, Late Neolithic worked flint, end scraper, Middle Palaeolithic end scraper, middle palaeolithic end scraper, round house, roundhouse, early roman round house, roman round house, structure, building, post built structure, medieval field system, ditch, field ditch, boundary ditch, subrectangular enclosure, burnt mound, needle case, worked bone needle case
Subjects:
Geographical Areas > English Counties > Suffolk
Period > UK Periods > Bronze Age 2500 - 700 BC
Period > UK Periods > Bronze Age 2500 - 700 BC > Early Bronze Age 2500 - 1500 BC
Period > UK Periods > Iron Age 800 BC - 43 AD > Late Iron Age 100 BC - 43 AD
Period > UK Periods > Neolithic 4000 - 2200 BC > Late Neolithic 2700 - 2200 BC
Period > UK Periods > Medieval 1066 - 1540 AD
Period > UK Periods > Palaeolithic 500 000 - 10 000 BC
Period > UK Periods > Roman 43 - 410 AD
Divisions:
Oxford Archaeology East
Depositing User:

Hamilton

Date Deposited:
07 Jul 2021 11:17
Last Modified:
07 Jul 2021 11:17
URI:
http://eprints.oxfordarchaeology.com/id/eprint/6052
Actions (login required)