Wegiel, Becky Land North of 21 Little Poulton Lane, Poulton-le-Fylde, Lancashire Archaeological Strip, Map and Record Report. [Client Report] (Unpublished)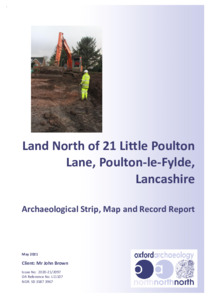 Preview
PDF




L11107_Report_Final.pdf


Download (3MB) | Preview
Abstract
In January 2018, Oxford Archaeology North (OA North) was commissioned to
undertake a programme of archaeological strip, map and record, in advance
of the construction of two new residential properties (Plots 1 and 2) to the
north of 21 Little Poulton Lane, Poulton-le-Fylde, Lancashire (SD 3587 3967).
An archaeological evaluation of the site, undertaken by Wardell Armstrong
Archaeology in 2015, had revealed deposits of potential archaeological
significance, and it was considered likely that other remains of archaeological
interest, potentially at risk of disturbance by the proposed development,
could survive on the site. In accordance with the methodology set out in a
Written Scheme of Investigation (WSI), prepared by OA North and agreed with
Lancashire County Council's Archaeological Advisory Service, stripping was
undertaken first in the southern plot (Plot 1), the intention being to strip Plot
2, to the north, only if it was clear that significant archaeological remains
extended into, or were likely to survive within, this area.
Actions (login required)