Simmonds, Andrew and Loe, Louise and Pollard, Mark and Gibson, Mark and Cotter, John and Parkin, Alice and Scott, Ian and Shaffrey, Ruth and Strid, Lena and Booth, Paul and Gane, Lucy Oxford Radcliffe Infirmary Burial Ground. Project Report. Oxford Archaeology. (Unpublished)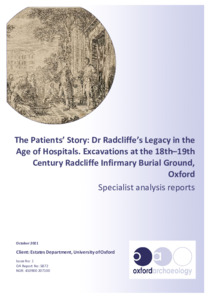 Preview
PDF




Radcliffe_Infirmary_digital_appendix.pdf


Download (2MB) | Preview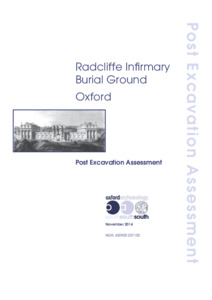 Preview
PDF




OXIB13_PXA.pdf


Download (3MB) | Preview
Abstract
In 2022 OA published The Patient's Story: Dr Radcliffe's Legacy in the Age of Hospitals. Excavations at the 18th-19th century Radcliffe Infirmary Burial Ground, Oxford, Oxford Archaeology Monograph No. 32, Loe L, Webb H, Simmonds A & Poore D.
In addition to the harcopy here is presented the Digtal Appendix and Post-excavation assessment report (2014)
The Radcliffe Infirmary was founded in 1770 in the parish of St Giles with funds from the estate of the royal physician, landowner and MP, Dr John Radcliffe. Like other English urban hospitals established at this time, the Radcliffe was a voluntary hospital and a teaching hospital, opened to treat the sick poor. Run by a board of governors, it is among a limited number of voluntary hospitals to be set out with its own formal burial ground, used between 1770 and 1855, to bury those dying in the hospital who were unclaimed by their families or whose families could not afford to transport them back to their home parish for burial. Following its closure, the burial ground became a garden for convalescence and, apart from some relatively limited post-war disturbance from the construction of the Eye Hospital and laboratories, it has remained virtually intact until present times.
In 2013 Oxford Archaeology was appointed by the Estates Department, University of Oxford, to excavate the burial ground prior to the construction of the Blavatnik School of Government. The work was undertaken in accordance with a Faculty issued by the Diocese of Oxford and was carried out between June and September 2013 with further watching briefs during March and July and August 2014, resulting in the excavation of 336 graves were excavated, in addition to which were two graves that had been fully excavated during the evaluation stage that were not re-excavated, as well as the recovery of additional remains including isolated limbs from grave backfills and from shallow pits that had been dug specifically for their burial. In all, 388 discrete individuals were recovered as well as material from charnel pits. Also involved was recording of the burial ground's south-western boundary wall, which fronted onto Walton Street, and a small number of earlier features which pre-date the cemetery, including an Iron Age pit, an Anglo-Saxon ditch and 17th/18th-century quarry pits.
This volume primarily focuses on the burial evidence. A rare collection, it presents the unique opportunity to examine 18th/19th hospital practice as reflected in the physical remains of the patients themselves and to consider the findings in the context of the hospital's extensive archives.
Most of the extent of the burial ground (c 66–78%) was excavated, allowing its physical organisation and development to be traced for the first time. The burials comprised 351 discrete articulated individuals in earth cut graves, generally aligned SW–NE and formally laid out in regular rows, in two distinct groups, either side of a footpath. This was in addition to 40 sets of articulated body parts, representing surgical waste, recovered from the backfills of graves and discrete pits, and a quantity of disarticulated human bone, primarily resulting from disturbance to burials during the construction of the Eye Hospital and laboratories. Documentary evidence suggests that those burials lying north-west of the footpath may date between 1770 and 1821 and those south-east of the path to between 1821 and 1855, after which the burial ground was closed.
Two groups of dense intercutting burials dug into disused quarry pits were found and are in stark contrast to an otherwise generally well organised nature of the burial ground. The reason for their presence is unclear, but they may relate to the need to dispose of a larger than normal number of bodies, perhaps as the result of an epidemic. Evidence of the cause of death was not visible on the skeletons from these contexts.
The burials included metal fixtures and fittings and traces of wood, all from coffins, and, in one case, a coffin plate bearing biographical details. However, in keeping with post-medieval funerary tradition, grave furnishings were otherwise largely absent apart from a few items of jewellery, shroud pins and dress fastenings. No grave markers were found and there are no surviving plans of the burial ground. Although a transcript of part of the burial register provides some information on individuals, this cannot be related to specific skeletons. Therefore, except for the individual with the coffin plate, the burials are unidentified.
The skeletons themselves were generally well preserved, allowing detailed information to be obtained on the demography, physical attributes, health and disease of the group. The majority of skeletons were adults and, in keeping with the burial register, there were more males than females. The presence of children below the age of seven and individuals with certain diseases (for example, syphilis and tuberculosis) confirms the documentary evidence which suggests that the hospital's admissions policy, which did not allow these groups, was not always observed. Evidence for trauma was notable, especially among males, and is testament to the hazardous nature of working class lives in late 18th/early 19th-century England.
Around 15% of the individuals showed evidence of medical intervention, including surgery, autopsy and anatomisation. Evidence for surgery reflected a focus on procedures which were quick and accurate (primarily amputations), in keeping with the practices of the era prior to the introduction of antibiotics and anaesthesia, when prolonged invasive surgery was uncommon. Also observed was a sacrectomy (removal of a section of the sacrum), a remarkable example of surgical intervention and possibly the earliest physical example to be discovered archaeologically. It reflects advanced medical intervention for its time.
Compared with elsewhere, evidence for anatomisation was limited, this activity primarily being observed on human remains arising from surgery and post-mortems. This evidence is consistent with the historical records, which reflect a hospital that upheld a high duty of care towards its patients, both pre- and post-mortem. It also supports historical research which has previously argued that the hospital mortuary played an important role in the advancement of teaching and medicine at the Radcliffe. Dissection was not being performed for the sake of it, but surgical material and post-mortems were being used as teaching opportunities. Thus, the operating theatre and mortuary played an important, hitherto unrecognised role in the development of a hospital which, by the late 19th century, had gained a reputation for medical education.
Much has been written about the Old Radcliffe Infirmary during the 18th and 19th centuries, but the focus has been on medical advances and key individuals. The work presented here offers a new perspective. More specifically, it provides an insight into the physicality of hospital treatment, surgery, teaching and working lives. Quite literally, it is the patients' story.
Actions (login required)