Thacker, Gerry Queen Elizabeth Barracks Church Crookham Hampshire: Phases 2 and 3. [Client Report] (Unpublished)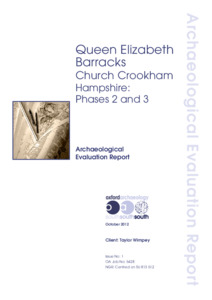 Preview
PDF




A2012.22_eval_Ph2&3.pdf


Download (3MB) | Preview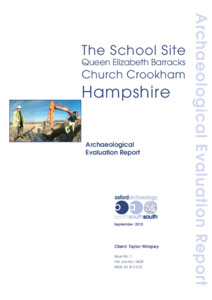 Preview
PDF




A2012.22_eval_trs50+.pdf


Download (888kB) | Preview
Abstract
During late July and early August 2012, Oxford Archaeology carried out a second phase of trial trench evaluation on behalf of Taylor Wimpey (West London) at the
site of the former Queen Elizabeth barracks, Church Crookham, Hampshire. Part of the area evaluated, towards the north-east of the development, will become the site
of a new school, and the trenches within this area form the basis of this report.
The trenches revealed two spatially and temporally discrete areas of archaeological activity. To the north a ditch contained pottery of Roman date, and two further
ditches and a pit, although undated may be related. To the south west of the area a ditch and a posthole contained pottery of post medieval date. Other undated postholes are also likely to be of this date.
In August and September 2012 Oxford Archaeology carried out a trial trench
evaluation on land at the former Queen Elizabeth Barracks in Church Crookham,
Hampshire. The evaluation formed part of a series of ongoing archaeological works.
Struck flints were recovered from the subsoil or the fills of later features but none
from in situ deposits.
The evaluation uncovered possible enclosure ditches of Iron Age or Roman date in
two trenches, but no associated features. The majority of ditches recorded were
undated and highly truncated although one contained pottery with a date range of
1350-1525, and another a piece of brick of 17th -18th century date. Several postholes
were uncovered in the south of the site - these are likely to be of 20th century date.
Actions (login required)