Fletcher, Taleyna (2009) Mill Hall, Dunnings Lane, Pulham Market, Norfolk. [Client Report] (Unpublished)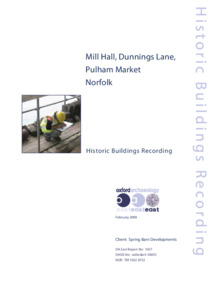 Preview
PDF




oxfordar3-50053_1.pdf


Available under License Creative Commons Attribution Share Alike.
Download (4MB) | Preview
Abstract
Oxford Archaeology East (formally CAMARC of Cambridgeshire County Council) was commissioned by Spring Barn Developments to undertake the archaeological building recording of Mill Hall just outside of the historic village of Pulham Market in south Norfolk. The work took place in July 2008 and was carried out in accordance with a Brief issued by Ken Hamilton of Norfolk County Council Landscape Archaeology and a Specification prepared by CAM ARC (Gane 2008).
The project required a survey of a Grade II Listed Building prior to major alteration work to include an extension and removal of a staircase. An additional record of a 19th century agricultural building was required within the grounds of the site, also scheduled for renovation.
The survey of the main house revealed four main phases of development. The earliest phase, was a three storey timber framed structure built upon a brick plinth. This early
phase had a lobby-plan layout with back-to-back fireplaces on the ground floor and a boxwinder staircase providing access to the first floor. Stylistically and relative to the later phase, this build has been dated to the early to mid 17th century. The second phase was dated 1624 by a date found over the fireplace on the first floor. This phase added a cross-wing to the earliest phase and was also a timber-framed structure on a brick plinth.
The third phase of development sees the re-building of part of the second phase sometime in the 20th century. Breeze block and re-set timbers in positions for aesthetic
rather than for structural purposes characterise this phase. The final phase is the addition of the conservatory and substantial additional building incorporated to more than double the living space. Cartographic sources provide evidence of a date of construction post-1985.
The additional outbuilding was dated to early-mid 19th century. Although much original material survives in-situ it has been massively altered in recent years re-using original
bricks and covered with a modern contemporary roof.
Item Type:
Client Report
Uncontrolled Keywords:
Norfolk, norfolk, Pulham Market, pulham market, HBR, hbr, Historic Building Survey, historic building survey, Post-Medieval, post-medieval, Post Medieval, post medieval, building, structure, Post-Medieval building, post-medieval building, Post Medieval building, post medieval building, Grade II, Grade II listed building, timber-framed structure, brick, brick plinth, boxwinder, boxwinder staircase, conservatory, agricultural building, Mill hall, mill hall, 1057, report 1057, Report 1057, OAE report 1057
Subjects:
Geographical Areas > English Counties > Norfolk
Period > UK Periods > Modern 1901 - present
Period > UK Periods > Post Medieval 1540 - 1901 AD
Divisions:
Oxford Archaeology East
Depositing User:

Hamilton

Date Deposited:
27 Jul 2021 06:19
Last Modified:
27 Jul 2021 06:19
URI:
http://eprints.oxfordarchaeology.com/id/eprint/6085
Actions (login required)