Fellingham, Adam Hardwick Hill Cemetery Expansion, Banbury. [Client Report] (Unpublished)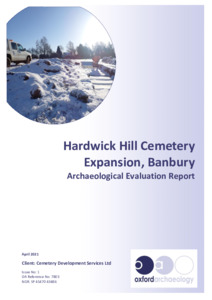 Preview
PDF




BAHHC20.pdf


Download (14MB) | Preview
Abstract
Oxford Archaeology was commissioned by Cemetery Development Services Ltd
to undertake an archaeological evaluation of the site of a proposed extension
of Hardwick Hill Cemetery, Banbury.
The evaluation tested the veracity of a geophysical survey which identified
anomalies interpreted as possible archaeological features within the proposed
development area. The geophysical survey was successful in identifying
archaeological features revealed in the eastern field (Trench 16) but proved
less accurate within the western field (Trenches 1-12), possibly as the result of
differences in the underlying geology with the bedrock encountered at notably
shallower depths.
The evaluation uncovered a series of ditches, pits, and postholes. A pit
containing two flint blades and abundant charred hazelnut shells may be of
early prehistoric date (Mesolithic to early Bronze Age). Other activity dates to
the late Iron Age to early Roman period. This includes a probable doubleditched
trackway running on an approximate N–S alignment in the eastern
part of the site. The ditches of the trackway had been repeatedly recut, and
the first phase of the eastern ditch produced pottery dated to 50 BC–AD 100.
Three ditches on varying alignments were present in the western part of the
site, one of which yielded pottery dated to the early Roman period. In the
centre of the site a large pit was found that contained pottery dated to 50 BC–
AD 100 and may have been a waterhole or quarry. Together, this evidence
suggests that much of the site was encompassed by a late Iron Age to early
Roman field system or a complex of settlement enclosures located on the drier
ground, with a commanding view of the surrounding valley to the west.
Multiple parallel post-medieval furrows crossed the site from east to west,
completely truncating any earlier features that they intersected.
Actions (login required)